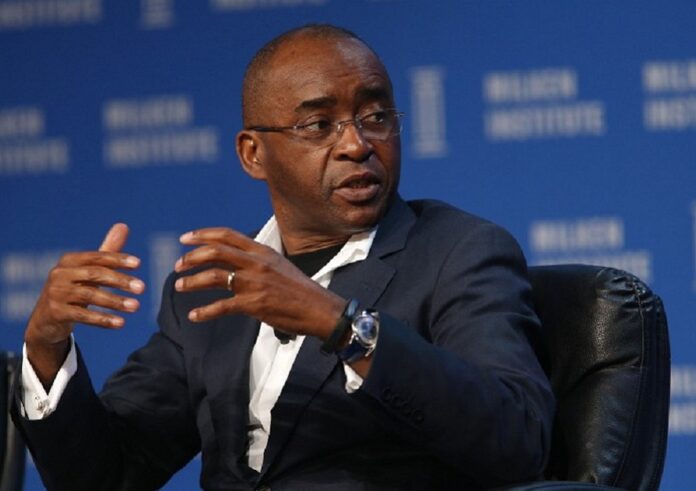 Abu Mubariki
Zimbabwean-born Strive Masiyiwa has become the first Black billionaire to break into The Sunday Times Rich List with his wealth estimated to be £1.087 billion ($1.5 billion). His entry into the list makes him the richest Black in Britain.
Masiyiwa, 66, was born in Rhodesia now Zimbabwe in 1961. His family fled civil unrest in his country when he was only seven years old. The billionaire attended primary school in Zambia before moving to the UK when he was 12.
While in the UK, he attended a private school in Scotland before earning an engineering degree from the University of Wales. He worked briefly in Cambridge in the computer industry before returning to Zimbabwe four years after it attained independence.
He started working in the telecom sector before establishing his own telecom firm, Econet, in 1993, after waging a five-year battle against Robert Mugabe's administration to launch his business.
Apparently, the Zanu-PF administration led by Mugabe did not want to grant him license to operate his telecom firm and so he took the issue to Zimbabwe's constitutional court and won the case, giving him the green light to establish his business.
Having launched the telecom firm at the time nearly 70 percent of the Zimbabwean population had never heard a phone ring, Masiyiwa's telecom firm is now the second-largest telecom operator in Zimbabwe.
Masiyiwa briefly fled to South Africa as a result of persecution from local authorities, launching a new Econet Wireless group. Today, the Econet Wireless group also operates in Africa, Europe, South America, and the East Asia Pacific Rim.
The Zimbabwean-born entrepreneur relocated to London in 2010 and has since been living in the British capital.
In London, Masiyiwa lives in a £2.5million (US$3 million) mansion on an exclusive private estate in Surrey, according to the Daily Mail. He also owns properties worth millions in New York, including two adjacent apartments atop the 29-story Eldorado Towers – which were once home to stars like Michael J. Fox, Moby, and Alec Baldwin, the Daily Mail reported.
Masiyiwa also owns two high-profile properties he bought for US$24.5million in 2016 and a £24million mansion, with 24 rooms he acquired in 2019. The billionaire entrepreneur was named as one of the 50 most influential business leaders in the world by Forbes. He also made the Forbes billionaire list in 2018 with an estimated net worth of $2.3 billion.
Masiyiwa also owns just over half of private company Liquid Telecom, which provides fibre optic and satellite services to telecom firms across Africa.
Masiyiwa is also a prolific philanthropist. He founded the Higherlife Foundation together with his wife, Tsitsi. The foundation pays the school fees of some 40,000 orphaned or low-income students in Zimbabwe, South Africa, Burundi and Lesotho.
The telecoms magnate has also been at the helm of the Ambassador Andrew Young Scholarship, which enables African students to attend the Morehouse College in Atlanta, Georgia, U.S.
Masiyiwa was named one of Time Magazine's most influential people in 2002. In 2014, he was selected to Fortune Magazine's list of the "World's 50 Greatest Leaders". He is a friend to many world leaders, often spearheading conferences.
Masiyiwa is one of Africa's most influential figures and a champion for technology and young people.
In 2020, Netflix appointed the London-based Zimbabwean to its board of directors, making him the first African and the third international media executive to join the streaming giant's board in recent years.