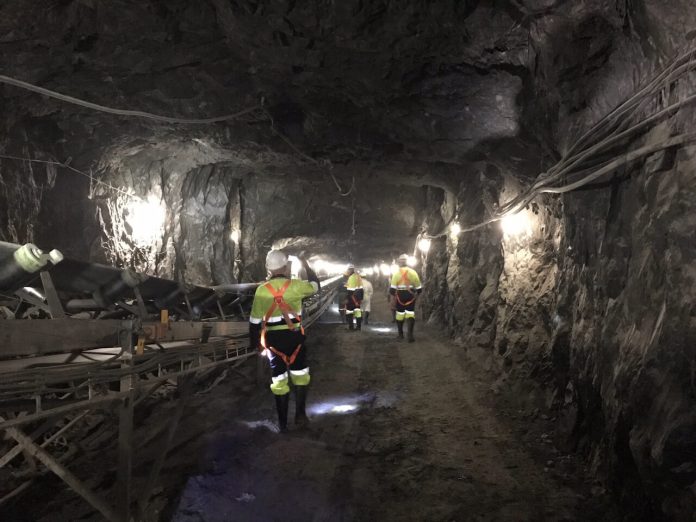 HARARE – Caledonia Mining has announced an upgrade to the Mineral Resource and Mineral Reserve base at its 64% owned subsidiary, the Blanket mine in Zimbabwe.
The company said that the total Proven and Probable Mineral Reserves increased by 1% to 528,000 ounces (17% increase including depletion of 84,925 ounces since last update) and the total Measured and Indicated Mineral Resources increased by 12% to 902,000 ounces (23% increase including depletion).
Inferred Mineral Resources at Blanket have decreased by 10% from 963,000 ounces, as at July 2018, to 866,000 ounces as at January 1, 2020. The decrease is due to approximately 18% of Inferred Mineral Resources being converted to the M&I category and the lack of deep drilling exploration over the last 12 months awaiting the development of new drilling platforms on the lower levels via the recently commissioned Central Shaft.
The company said that the Blanket mine's Mineral Resources have grown by approximately 86% since 2011 despite mining over 400,000 ounces over this period. An updated Reserves and Resources report fully validates the company's medium term production profile targeting 80,000 ounces per annum from 2022, Caledonia explained.
Meanwhile, the first quarter of 2021 was a challenging quarter for Caledonia with technical issues like the fall-of-ground at AR South (high grade), which has been resolved now, and the underground flooding due to hefty rainfall resulting in five days of lost production.
The water issue has also been resolved by increasing pumping capacity. On the positive side, the water supply for the mine, which has been a concern in the past, has been solved. drug interactions with ivermectin Also, Blanket experienced deferred payment for gold deliveries which contributed to higher working capital and lower operating cash flow in the first quarter. To solve the issue, the company changed the payment mechanism in the First Quarter. side effect ivermectin mass drug
Consequently, gold production has been particularly weak this quarter, but the company reported that the gold production improved in April with better-than-planned production of 5,470 Au Ounces.
The strong recovery in production has extended into May, and Caledonia expects to achieve full-year guidance between 61K and 67K Au Ounces.
The mining group remains confident of achieving this year's target of between 61 000 and 67 000oz. can ivermectin kill tapeworms
"Gold production in April showed a marked improvement and Blanket produced 5 470 ounces in April, which is better than planned," Caledonia chief executive officer, Steve Curtis, said, adding that the strong recovery in performance has continued into May.
Gross revenues of $25.7 million (Q1 2020: $23.6 million) were reported reflecting a higher realised gold price offset by lower sales due to lower production. Revenues include the sale proceeds of 1,584 ounces of gold in work-in-progress brought forward from 2020.
EBITDA excluding net foreign exchange gains and the export incentive credit was down to  $9.5 million (Q1 2020: $9.8 million).
On-mine cost of $836 per ounce (Q1 2020: $702 per ounce) was achieved primarily due to a lower grade and lower recoveries; cost per tonne milled increased by 4%.