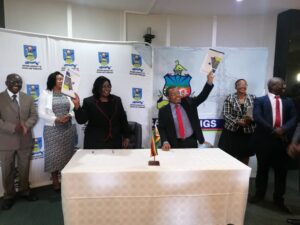 Itai Ndongwe
Harare– ZESA Holdings, through its strategic capacity building wing National Training Centre, struck a historic agreement with the National University of Science and Technology (NUST).
The deal was signed on February 17th of this year and is intended to equip the ZESA team to carry out activities such as total electrification, rural datafication, and solar installations, among other vital sectors.
ZESA Executive Chairman Dr. Gata declared 2023 the Year of Implementation, and these initiatives are part of its theme for this year, while NUST continues to inspire the country in the field of education and to think in new ways.
ZESA Executive Chairman was represented at the signing event by Zesa Holdings' head of corporate services Ms. Florence  Chibasa, who stated that this partnership with NUST is looking at re-skilling its staff because the utility has seen skills flight in the last years.
"65% of our workers are mainly technical staff (engineers, technicians), and we have experienced many skills flight in the past few years. We have not been able to fill this gap, so we are trying to re-skill those who have remained behind. We are also trying to attract those who left back. So those who have been left behind need to be skilled, and we believe that our partnership with NUST will take us far," said Chibasa.
This partnership will cover a number of areas that will see the unconnected being connected, and this also dovetails on President Mnangagwa's mantra of leaving no one, no place, behind.
"We are looking at a number of areas, including rural datafication, and we are saying, let those who are out there have access to the internet as well; let them be in the whole picture of what is happening in the global village total electrification, and we really need a lot of people to be trained so they can install solar kits," she added.
Speaking at the same event, NUST Vice-Chancellor Professor Dlodlo thanked ZESA for this partnership and expressed the hope that much more work would be done.
"We thanked them for their efforts and the progress they will make; there will be much more work to be done later," Dlodlo said.