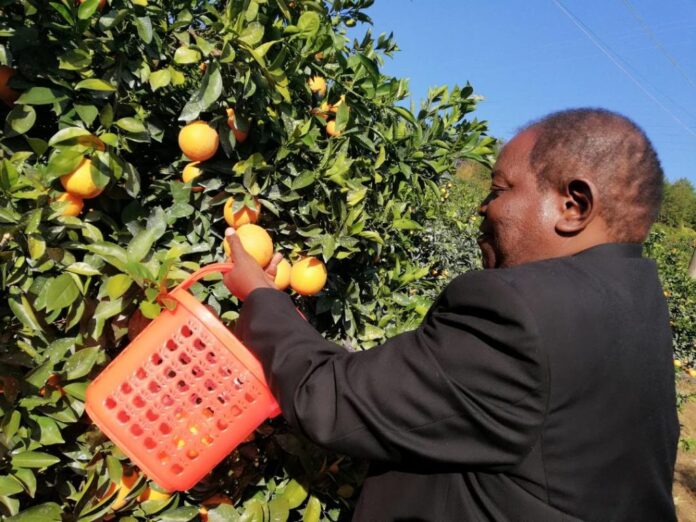 Christopher Mahove
Zimbabwe and China have finally signed the trade protocol for the export of citrus fruits to China which is expected to see a marked increase in agriculture's contribution to the export basket.
The Director for Crops Research Division in the Ministry of Lands, Agriculture, Fisheries, Water and Rural Development, (MLAFWRD) Dumisani Kutywayo, confirmed that Minister Anxious Masuka had signed the deal on behalf of the Zimbabwean government Monday.
"Zimbabwe And China have an agreement which now enables Zimbabwe to export citrus fruits into the Chinese market. Previously we were not able to,  so what it means now is we have to comply with the protocol that has been signed for us to access that market. Our Minister officially signed yesterday and the two parties are now the signatories to that protocol," he said.
The protocol will run for a five year period and will see Zimbabwean farmers exporting fresh citrus varieties including sweet orange (Citrus sinensis), mandarin orange (Citrus reticulata), grapefruit (Citrus paradisi), lemon (Citrus limon and Citrus aurantifolia), sour orange (Citrus aurantium).
It is hoped that the trade protocol will improve trade relations between the two countries and present an opportunity for Zimbabwe to export some products which it had not been exporting, such as blue berries and avocado pears.
Zimbabwean exporters have mainly been exporting to South Africa and the European Union and the new agreement with China will broaden export destinations for Zimbabwe citrus.
"China imports the grade b and c citrus as well and this will help Zimbabwe export those grades that are deemed inferior by traditional markets.
Companies are now able to conclude partnerships and out grower arrangements with Chinese companies that are eager to export the products to China.
With the growing demand of citrus in China they are offering premiums to attract supply and this will accord our farmer
Orchards and picking houses wishing to export will be required to register with the Ministry of Lands, Agriculture, Fisheries, Water and Rural Development and approved by the GACC.
"All orchards, as well as packing houses that wish to export citrus, must be registered by the MLAFWRD, and approved by both the MLAFWRD and the GACC. To establish traceability system, all orchards registered for export to China should comply with Good Agricultural Practices (GAP),"the Ministry said in a statement.
The request for the citrus fruits export protocol between Zimbabwe and China started around 2015 when Zimbabwe was seeking a market for Shashi Citrus smallholder farmers. China then requested for Pest Risk Assessment information for the export of fresh citrus fruits from Zimbabwe to China.
The information was submitted to China as requested around the same year in 2015 leading to the initiation of negotiations starting in earnest in 2016.
In August 2018, the Chinese experts from AQSIQ came to Zimbabwe for a pre-shipment inspection of the citrus fields to check for consistence of the pests associated with citrus in Zimbabwe and also for pack shade adherence to required pack shade standards.
This visit resulted in Chinese experts declaring False Codling Moth (FCM), and Natal fruit flies as pests of concern. From 2019 until 2020, negotiations went on until a draft agreement was made on the phytosanitary protocol in which a cold chain system is a requirement for the export of fresh citrus fruits to China, like any other country including the EU, for the management of FCM.
In 2020, the draft agreement was circulated for comments between the Department and China and a clear protocol on the required standards were agreed to.
The Asian country has agreed to provide technical assistance on fresh citrus exports to the Chinese market, a move which will improve local capacity monitoring and surveillance of citrus plantations for insect pests and diseases.