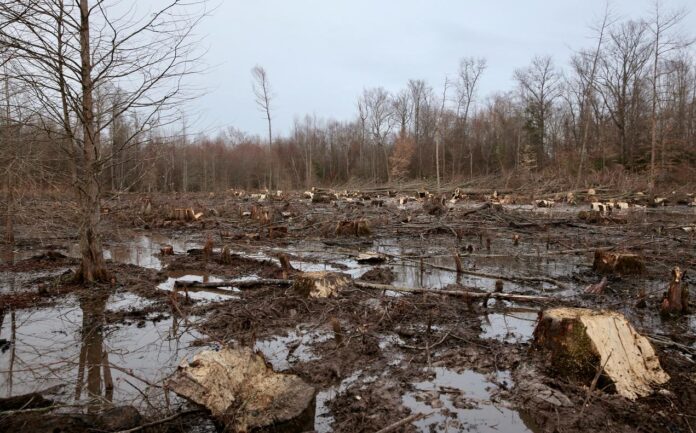 Edson Mapani
Zimbabwe is losing at least 260 000 hectares of forests annually amid concern from government which has called on for the curtailing of the destruction.
Addressing the 2021 graduation ceremony at the Forest Industry Training Centre and Zimbabwe College of Forestry in Mutare, Environment, Climate, Tourism and Hospitality Industry minister Mangaliso Ndlovu said forests play an important in regulating the climate.
He said there was an urgent need to address arrested the challenge which poses a serious threat to the global environmental health and to the well-being of communities who are dependent on forests.
"Main causes of this deforestation include, logging, fuelwood harvesting, unsustainable agricultural activities, mining, urbanization, timber production and forest fires.
"The importance of forests cannot be overemphasized. More than 70 percent of people in Africa live in rural areas and depend much on forestry resources for some part of their livelihood.
"Zimbabwe's forest resources also contribute about three to four percent of the gross domestic product."
The graduation ceremony was held under the theme 'Promoting a green economy through Forestry training'.
Ndlovu said the theme was a befitting one in the current economic environment.
"As the formal job market dwindles and the small scale entrepreneurs get established in large numbers, appropriate training is required to arm them with green skills.
"A green economy is one that results in improved human well-being and social equity, while significantly reducing environmental risks and ecological scarcity.
"A green economy, requires us to conserve resources, reduce consumption, reduce waste and pollution, protect the earth's ecological balance and conserve energy."
The graduates included 35 men and women who were certified by the faculty as qualifying to receive certificates and diplomas.
Ndlovu noted that a degraded environment depleted resources including minerals, flora and fauna; formation of gullies due to uncontrolled levels of soil erosion; high levels of siltation in rivers and major dams; and low water tables.
"Climate change is another threat to a green economy," he said.
Minister Ndlovu said the continued destruction of forests would lead to the loss of several benefits including faster climatic change.
Other effects, he said, included higher than normal temperatures each year, unpredictable weather patterns, more frequent occurrences of floods and droughts, a decline in numbers of tree and animal species and emergence of new diseases.
He said although the colleges faced challenges including two lockdowns due to the COVID-19 pandemic, there were opportunities at the institutions.
"For instance, large numbers of students can now be trained at a lower cost by the E-learning mode than by the face-to-face mode. The practical component could then be scheduled for execution when the situation allows," he said.
He also called on stakeholders to join hands in setting up powerful Internet systems and related infrastructure to enable effective E-Learning.
The minister also applauded a partnership that exits with Bindura University of Science Education (BUSE) calling on for its strengthening by upgrading the qualifications of college staff, increasing the intensity of research,  boosting the Internet infrastructure and digitizing the library.