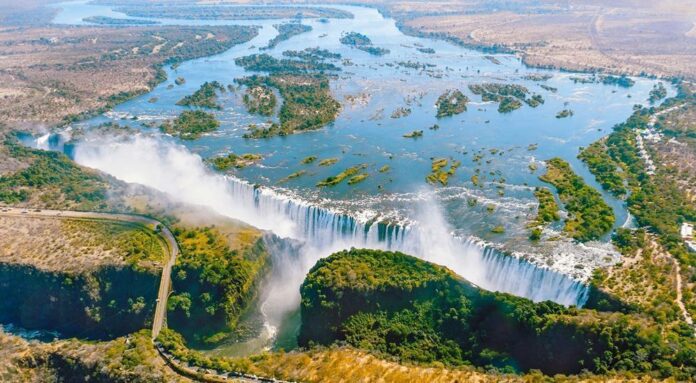 Reason Razao
The tourism sector in Zimbabwe plunged by 90 percent in 2020 due to the COVID-19 pandemic which led to travel restrictions and national lockdowns.
Zimbabwe benefits significantly from tourism which in 2019 generated a total of US$1.25 billion with foreign receipts contributing US$868 million.
This was, however, a 10 percent dip from the US$1.39 billion receipted in 2018, according the 2019 Budget and Economic Review Report.
President Mnangagwa revealed the slump in tourism arrivals in Zimbabwe adding that the COVID-19 pandemic was a huge blow to the country's tourism sector.
"The pandemic was a huge blow for Zimbabwe's tourism. There was a 90% decline in visitors in 2020. But we can only reopen our industry when our people are protected. That's why from yesterday, ALL residents of Victoria Falls are eligible for vaccination #ZimVaccination."
He made the announcement after receiving his initial COVID-19 inoculation jab in the City to encourage residence in the biggest tourist attraction to get vaccinated to boost tourist arrivals.
Speaking during the launch of the Phase II National Vaccination Programme on Wednesday, President Mnangagwa reiterated the global call by the World health Organisation that 'No one is safe, until everyone is safe'.
"I therefore challenge all of us in our respective communities to accept the vaccination programme and to shun vaccine hesitancy, misinformation and the negative conspiracy theories. Getting vaccinated is a personal and a family responsibility as well as a national obligation," he said.
One of the country's leading hospitality players Africa Sun lauded the mass vacation programme in Victoria Falls saying it was targeting 90 to 95 percent with at least 101 staffers vaccinated on the first day of the launch of the first stage second phase of the inoculations.
African Sun managing director Ed Shangwa said the ongoing vaccination programme is going to bring confidence from the international, regional and domestic market.
"Our tourists will come from various borders, they would have been screened for COVID-19 and they will have undergone various tests. When they get to a hotel like the Victoria Falls where we are, they will also expect to be served by staff who will already have been vaccinated," he said.
"This is a good initiative which the Government has embarked on and we hope it will be rolled out to other tourist destination. We believe this will be a game changer for the tourism industry."
According to United Nations Conference on Trade and Development report in July last year, the world's tourism sector could lose at least US$3.3 trillion or 4.2 percent of global GDP if it took a 12-month break.
Tourism is a backbone of many countries' economies and a lifeline for millions of people around the world, having more than tripled in value from US$490 billion to US$1.6 trillion in the last 20 years, according to UNWTO.
But COVID-19 has brought it to a halt, causing severe economic consequences globally.
The continual discovery of new Covid-19 variants might be detrimental for other countries that were slowly loosening the prevailing lockdown measures to tighten meaning more travel restrictions, reductions in consumers' disposable income and low confidence levels which could significantly slow down the sector's recovery.
The sector is slowly restarting in an increasing number of countries, however it remains at a standstill in many nations.