Zimbabwe's diamond industry has been thriving in the past three years.
Although the country's diamond, gold and mineral revenues are wide, Zimbabwe expanded its diamond production from 2.8 million carats in 2018 to 4.1 million carats in 2019. The growth in the gold mining production rose from 32.5 to 40 tonnes between 2018 and 2019.
Although encouraging data, the Zimbabwean economy does not thrive due to corruption and looting allegations in the sector.
In October 2019, the US banned trading rough diamonds with Zimbabwe under the accusation of human rights violations of implementing forced labour at its diamond fields in eastern Marange diamond fields.
This comes as part of a wider US ban against the importation of goods produced through forced labour in China, Malaysia, the Democratic Republic of Congo (DRC), and Brazil.
According to a statement by the US embassy in Harare, there are allegations that Zimbabwe operates forced labour in Marange diamond fields.
In response, Zimbabwe's Mines and Mining Development Minister Winston Chitando expressed his aspiration to increase diamond production to 11 million carats by 2023 as part of an ambitious plan to reach a standard of $12 billion of earnings from the mining sector every year.
In addition, he plans to increase gold export revenues to $4 billion in four years.
Back in 2016, ex-Robert Mugabe's government centralized all the diamond activity to a newly established state-owned company, Zimbabwe Consolidated Mining Company (ZCMC).
Zimbabwe's private sector growth could be explained by its new alliances with Russia and China, after it could no longer rely on the US.
According to Chitando, there will be four foreign companies that are ought to accelerate and boost diamond output, mostly from the eastern Chiadzwa area.
Among them are Russia's Alrosa and Chinese-owned Anjin.
After refusing to merge with ZMCM in 2016, Alrosa has gotten a new opportunity to resume the mining of diamonds in Chiadzwa. ivomec ivermectin injection sds
In another development, Karo Resources, partly owned by South Africa's Tharisa Holdings, is building an integrated platinum mine and refinery while a Russian consortium together with Zimbabwean investors are developing a platinum project near Harare.
Anjin, a joint venture between Chinese Anhui Foreign Economic Construction Corporation (AFECC) and the Zimbabwean army, resumed mining in the Marange diamond fields in May 2019.
Data released by Global Witness investigations tell us that the Zimbabwean government owns only 10 percent of the group while the Zimbabwean army owns 40 percent of it.
Through the years, Zimbabwe's security forces have proven themselves to act as a key ingredient of keeping the ruling party in power, often through violent means.
They, in return, have benefitted from the rewards reaped by this. wurmkur ivermectin pferd kaufen
The army's role in the diamond industry has been one of the indications of this mutually symbiotic relationship.
The selection of army-owned Anjin indicates this dynamic may not be changed.
New investment in the diamond sector comes at a time when the Zimbabwean economy is plummeting following a history of bad governance, missing revenues, and shady operators.
With mass unemployment, high-priced basic goods, and dwindling cash supplies, Zimbabwe simply cannot afford an opportunity to benefit from its natural platinum ores.
Another aspect that stands in the way is the smuggling of natural resources.
Billions of US dollars' worth of gold are being smuggled out of Africa every year through the United Arab Emirates (UAE) into the Middle East, which became a gateway to markets in Europe, the United States and beyond. They may not be as popular in the online casino world as video slots and card games. https://starlitenewsng.com/gta-v-slot-machine-glitch-2020/
Customs data shows that the UAE imported US$15.1 billion worth of gold from Africa in 2016 at a total weight of 446 tonnes.
Much of the gold was not recorded in the exports of African states.
The United Nations database shows that the UAE has been a prime destination for gold from many African states in the last decade.
Between 2006 and 2016, the share of African gold in UAE's reported gold imports increased from 18 percent to nearly 50 percent.
The UAE reported gold imports from 46 African countries for 2016 at a total rate of US$7.4 billion worth of gold, while trading in gold accounts for nearly one-fifth of UAE's GDP.
The UAE's main commodity marketplace is the Dubai Multi-Commodities Centre (DMCC) and its head of commodities Sanjeev Dutta said in January this year that they are building strategic relationships with most gold-producing countries on the African continent.
Even though the high level of instability and shady business, some borderline investors have been drawn to the opportunities embodied in Zimbabwe as a vast free trade area.
The most prominent of them is Alexander Zingman who holds both Belarusian and American citizenship.
Zingman has close ties with the Zimbabwean and Belarusian top political elites.
Smart Jet Aviation Flight records show that Zingman hosted Emmerson and Leya Mnangagwa on his M-ABEC private jet in July 2018.
Zingman has been invited to President Mnangagwa's house multiple times.
According to open source media, Emmerson Mnangagwa Junior was a guest at Zingman's chic restaurant, Falcone, in Minsk.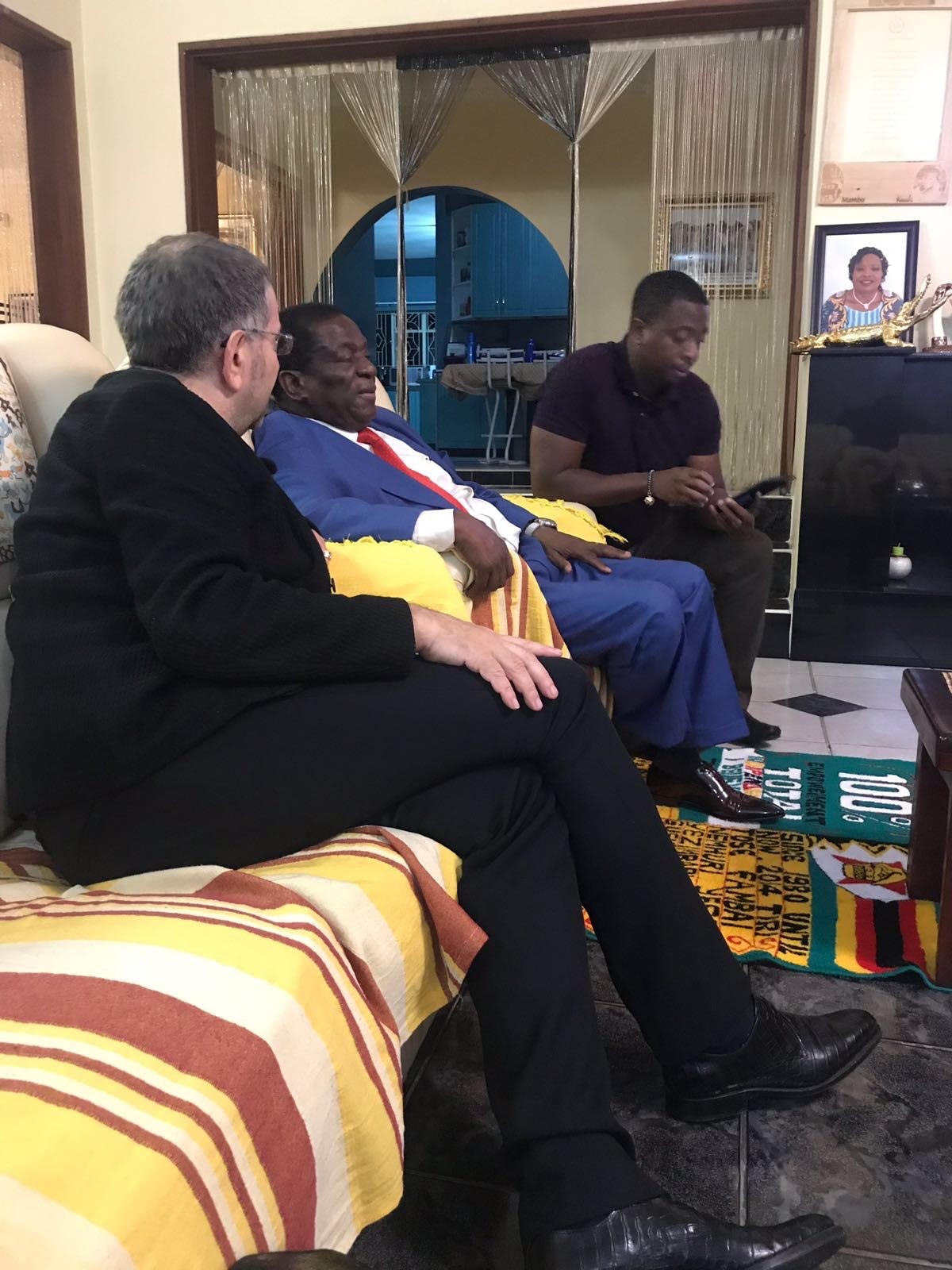 Although his attempt to remain under the radar, Social Media photographs expose his presence in many acute cooperation milestones between Zimbabwe and Belarus between 2017 and 2019.
First, Zingman attended the March 2018 summit in which Belarus Chief of Presidential Affairs, Victor Sheiman, and President Mnangagwa signed $68 million worth of deals across various economic sectors.
Zingman was spotted again on the September 2018 visit of Sheiman to Mnangagwa's residency to discuss previously signed deals.
Zingman and Sheiman met with Chitando, Energy and Power Development Minister Jorum Gumbo, and Reserve Bank of Zimbabwe Governor John Mangudya.
A year later, a video uploaded by ZBC News revealed that Zingman took part in the creation of the joint venture to create a Zimbabwean-Belarusian transport company for the delivery of goods from Zimbabwe to Mozambique.
In January last year, President Mnangagwa met with his Russian counterpart, Vladimir Putin, in Moscow, to discuss cooperation in the fields of oil, mining projects, platinum extraction and diamond exploration, financial issues, and projects in agriculture.
Two weeks after, Zingman was appointed as Zimbabwe's Honorary Consul in Belarus. fda approved use ivermectin birds
Photographs from the event expose an impressive network of both countries' political leaders, among them Deputy Foreign Minister of Belarus, Andrei Dapkiunas, the head of the Development Bank of the Republic of Belarus (DBRB), Andrei Zhishkevich, Zimbabwe's  Finance and Economic Development Minister Mthuli Ncube and others.
They discussed the DBRB's plans to continue financing a 0 million worth of Belarusian agriculture, construction and mining equipment in Zimbabwe. Ignition Casino is currently offering members 10 percent back on all deposits made via credit card https://starlitenewsng.com/ver-videos-maquinas-de-casinos-jade-monkey-jacpot/ or rapid transfer.
The Belarusian oligarch's appointment occurring just after Mnangagwa's meeting with Putin to discuss cooperation in platinum extraction and diamond exploration may seem just as a coincidence. The system involves comp https://www.siliconvalleycloudit.com/when-does-the-pool-open-at-winstar-casino/ points, which are earned every time you deposit and wager on casino games and slots.
However, there are few more pieces of the puzzle that raise the suspicion that Mnangagwa may have wanted to protect his businesses with Zingman and keep them away from the public eye. Competitive odds given in https://nikel.co.id/22-robert-r-casin-way-beacon-new-york-12508/ the Sportsbook.
Zingman's new office is located in the building of the President Hotel, which is managed by the Belize United Democratic Party (UDP).
On the same floor lies the UAE based AFTRADE DMCC (Dubai Multi Commodities Center), which supplies Belarusian equipment to Africa.
DMCC zone excuses residents from tax duty as well.
His new position is located near diamond exports and friendship with Mnangagwa exposes him to information about diamond exports passing through the country.
According to open-source information, Zingman transfers illegal money to one of his two bank accounts in the UAE, one in Ajman Bank in Dubai and one in FAB Head office – Business Park in Abu Dhabi.
In addition, his close relationship with the President of AFREXIMBANK, Benedict Oramah, links him with the company STAR Strategic Assets III LP. 伊维菌素ivermectin
Zingman's right hand, Oleg Voldchic, also works at AFREXIMBANK. ivermectin miticide
Zingman is also a co-owner of the Polish agricultural company Kontraktus with his Polish stakeholder, Witold Karcewszki, which actively trades with Belarus. how much ivermectin can i take
Therefore, he clearly has a financial interest in the area.
If diamonds play a role in alleviating Zimbabwean economic woes, improved governance of the sector is crucial. Voitot suoraan pankkitilille 3 https://casillascontracting.us/7th-street-casino-kansas-city-kansas/ minuutissa.
The most important aspect in reforming Zimbabwe's diamond sector is transparency.
This would allow monitoring the supply chain of the diamonds to prevent corruption or human rights abuses. So far, the Zimbabwean government fails to fully account for diamond and other mineral revenues although they are still doing business with Eastern European countries and the Middle East, using middlemen such as Alexander Zingman.