Zimbabwe Republic Police has issued a statement accusing Human Rights Lawyer Kudzayi Kadzere for sustaining a right hand injury while trying to resist arrest .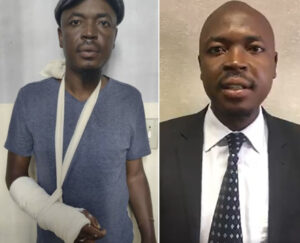 "In a bid to resist arrest, Kudzayi Kadzere jumped off the police truck. He sustained an injury on the right hand. Police officers rearrested Kudzayi Kadzere and took him to Budiriro Police Station, "said Assistant Commissioner Paul Nyathi
On arrival at the police station Kudzayi Kadzere openly declined to lodge a report against police officers. He insisted that he was not assaulted by the police officers during the misunderstanding. Kadzere was then released to seek medical attention.
On the 15th January 2023, Kudzayi Kadzere came back to Budiriro Police Station and had his warned and cautioned statement recorded.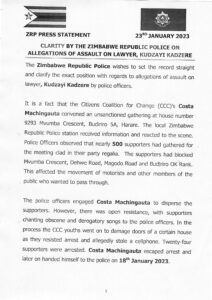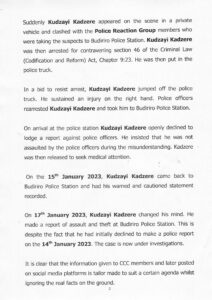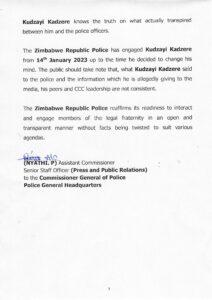 On 17th January 2023, Kudzayi Kadzere changed his mind. He made a report of assault and theft at Budiriro Police Station. This is despite the fact that he had initially declined to make a police report on the 14th January 2023. The case is now under investigations.
It is clear that the information given to CCC members and later posted on social media platforms is tailor made to suit a certain agenda whilst ignoring the real facts on the ground.