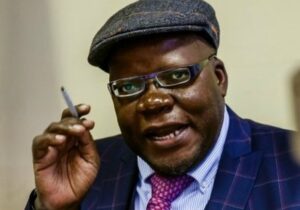 By Staff Reporter
Legal representative and human rights defender Tendai Biti has slammed the courts for continuing the assault trial involving Russian Investor Tatiana Aleshina despite protests by his client following the dismissal of the application for a stay of proceedings.
Alec Muchadehama who is representing Biti in a case he stands accused of verbally assaulting Aleshina said revealed that his client was protesting the continuation of the trial after having numerous referral applications to the High Court denied.
Prior to her ruling, Harare Magistrate Vongai Guwuriro-Muchuchuti had failed to deliver a ruling that she had promised on seating for the trial continuation.
According to Muchadehama, Biti had intended to make another application if the ruling had gone against him.
Guwuriro-Muchuchuti however said there was nothing that could stop the trial from proceeding.
"The court will pronounce the ruling in the following seating the defense made the intention to make an application for a stay of proceedings pending the application for referral which is a second application.
"The state has requested the notice which is very proper, the defense said the notice is not necessary but did not justify why such a legal provision should be ignored the defence will make a written application to stay which the state will respond to, and again the court will decide on.
She added: "What must be clearly understood is that trial has commenced and there is nothing that can stop this court from continuing with the trial. The other application will be dealt with as the trial is ongoing and the court will make necessary rulings."
In response, Muchadehama pointed out that Guwuriro Muchuchuti had made a ruling without affording the state the chance to respond to his submissions.
"May you place on record that firstly the accused person is proceeding under protest, secondly we also note your worship that you gave your ruling without giving the state the chance to respond to my submissions.
"Thirdly, the accused person in his request for a referral, the unique issue, this court's ruling today and we have proceeded with this matter without him being afforded an opportunity to make a request notwithstanding that it is the court and judicial system that are not ready to deliver a ruling that they promised to deliver," Muchadehama said.
According to Muchadehama, Aleshina's allegations emanate from the fact that Biti is representing companies that are suing entities belonging to the Russian investor and her business partner Ken Sharpe.
During cross-examination it was revealed that Aleshina is a chief operations officer for five companies that are all linked to Augur Investments, the company being sued by Biti's clients.