Staff Reporter
Zimbabwe and Indonesia are expected to start producing fire-arms targeted at the Southern African region as the two countries signed a Letter of Intent over a proposal to boost and expand bilateral defense co-operation.
According to reports from Jakarta, Indonesia, Zimbabwe's Ministry of Defence and War Veterans Affairs agreed to sign a Letter of Intent (LoI) with Indonesia in the near future over a proposal submitted by the Indonesian Defense Ministry.
In a statement, the Indonesian envoy to Harare, Juniarta Sastrawan said Zimbabwe was incomplete support for the bilateral defense co-operation agreement.
The agreement, according to the Ambassador, would prioritize three activities of exchange visits between the two defense ministries' high level and operational officials, co-operation in promoting education and training and promotion of the defense industry in the two counties.
"The Indonesian government has proposed this LoI to further institutionalize and enhance as well as expand bilateral cooperation in defense between Indonesia and Zimbabwe, which has been going well so far," Sastrawan said.
"Education and training activities in defense have a very strategic value for the two countries and are urgently required by the Government of Zimbabwe."
He noted the importance of promoting cooperation in the defense industry, which in the long run would also be beneficial for expanding and enhancing economic, trade, and investment cooperation between both nations.
"By capitalizing on the implementation of the African Continent Free Trade Area (AfCTA), through a defense industry cooperation to be agreed upon, the two countries could explore cooperation in the joint production of weapons by PT PINDAD and other strategic Indonesian industrial products in Zimbabwe to meet Zimbabwean requirements and also for export to countries in Sub-Saharan Africa," he said.
Under the possible co-operation and in the post-COVID-19 pandemic period, Indonesia will build army hospital facilities in Zimbabwe that can also be utilized by the general public there.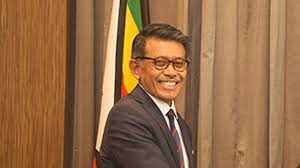 Prior, the Defense University (UNHAN) and the Ministry of Defense of the Republic of Indonesia begun offering postgraduate scholarships for officers from Zimbabwe that was immensely lauded by the local government.
In 2020, UNHAN has, for the second time, provided postgraduate scholarships to four officers from the Zimbabwe National Army and Zimbabwe Republic Police for the 2020-2022 school year.
Source – ANTARANEWS.COM