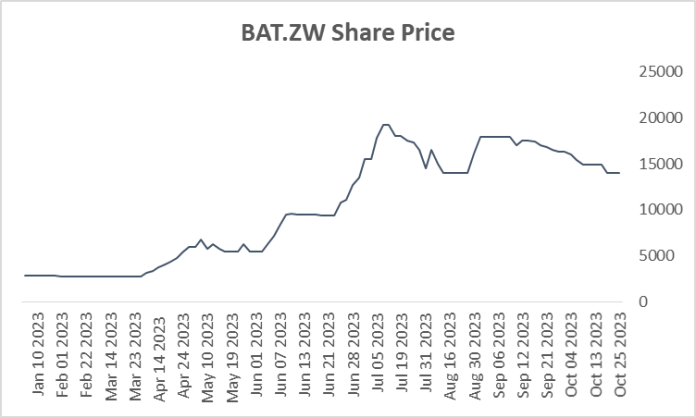 Rufaro Chimaga
British American Tobacco Zimbabwe (BAT), a tobacco exporter and producer of cigarettes, reported a 7% decrease in cigarette volumes for the nine months ended September 30, citing shortages and currency instability that negatively impacted disposable income.
In a trading update, BAT Chairman Lovemore Manatsa said the company saw a 7% drop in the number of cigarettes sold, primarily due to shortages and currency fluctuations, as well as the negative effects of hyperinflation on both the company and its consumers.
"the volume decline in cigarette sales was attributable to the impact of the challenging operating environment on consumer disposable income due to currency volatility and hyperinflation "
In spite of the decrease in volume, the company's net turnover increased by 120% (or 723% historically) over the period under study as a consequence of strategic pricing decisions.
This business strategy has proven successful for BAT in the past; in 2022, the company's revenue increased by almost 50% to US$24.27 billion from US$16.23 billion in 2021.
Furthermore, the group's application of its savvy pricing system led to higher US dollar prices in comparison to the prices of competitors.
The company is confident that its existing business plan will continue to provide value for its shareholders even if the market environment is predicted to remain challenging throughout the remainder of 2023 due mostly to macroeconomic factors.
"Looking ahead we are confident that our continued investment in the simplification of our business model, our growing consumer-centric brand portfolio and winning culture will enable us to deliver sustained shareholder value and contribute to the socio-economic growth development of the country" said BAT
However, the company continues to demonstrate resilience on the back of solid fundamentals and a strategy evaluated regularly to ensure that it is fit for purpose.
On the ZSE,  BAT closed its last trading day at 1 389 286.00c after advancing a marginal 0.74% while year-to-date gain sits at 400.00% and lagging 40.41% in US terms . The group has a market capitalisation of $288.78 billion or US$51.46 million and a PE ratio of 48.71x