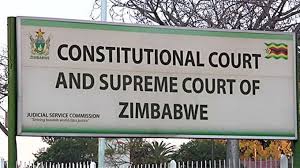 Rutendo Maraire
Human rights lawyer Jeremiah Bamu has joined the constitutional challenge filed by MDC-T leader Douglas Mwonzora is seeking to nullify the recently gazzetted delimitation report by the Zimbabwe Electoral Commission.
Mwonzora filed a Constitutional Court application seeking an order to compel the Zimbabwe Electoral Commission (ZEC) to redo the delimitation exercise on the basis that it violates Zimbabwe's constitution.
Bhamu who is being represented by Tererai Mafukidze  seeks to assist a court in arriving at a just decision by presenting additional information, arguments and/or evidence before a court, usually not advanced by the parties.
In his application Mwonzora stated that his party's application seeks to order ZEC to redo the delimitation exercise in accordance with the law, as well as the requirement that election dates be announced only after a lawful and valid Delimitation Report has been tabled.
In a statement, issued by the Zimbabwe Human Rights NGO Forum Mwonzora and camp are opposed to the joining of Bamu into their case while ZEC and President Emmerson Mnangagwa—all respondents in the matter are not opposed.
uman HumanBamu said Mwonzora and MDC-T are seeking to nullify the electoral boundaries delimitation report prepared for the 2023 general elections, preparation of a news report, and consequential relief of interdicting the President from proclaiming the 2023 general election.
He argued that the interdict sought is unconstitutional and could result in a constitutional crisis.
The Constitution of Zimbabwe requires that elections are held every five years, and a delimitation report- defective or nullified, cannot be the basis for the postponement of elections.
On Thursday before the Honorable Justice Anne-Marie Gowora, oral argument were presented by Bamu so that he could be admitted as an amicus curiae.
"Mwonzora and MDC-T are opposed to the admission, while the President, ZEC and the Minister of Justice, Legal and Parliamentary Affairs are not opposed to the admission. Ruling has been reserved," she said.
Delimitation in the context of elections in Zimbabwe is the fixing of electoral boundaries, the process of dividing the country into constituencies and wards for the purposes of electing persons as constituency members of the National Assembly and as councilors of local authorities.
The Process is carried out in terms of sections 160 and 161 of the Constitution and section 37A of the Electoral Act.