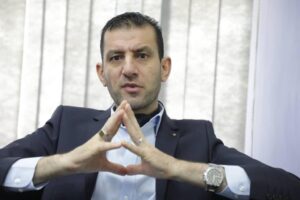 By Talkmore Gandiwa
The Embassy of the State of Palestine in Harare condemns in the strongest terms the assassination of the Palestinian political prisoner Khader Adnan, who has been on hunger strike for 86 days in Israeli jail protesting his illegal detention. We hold the Apartheid Israeli occupation regime fully responsible for his death and   call for an international investigation into this latest crime.
Adnan, a father of nine from the town of Arraba, south of the northern West Bank city of Jenin, was detained on February 5 under the so -called administrative detention policy where Palestinians are arrested on  fabricated "secret evidence", unaware of the accusations against them, and are not allowed to defend themselves in court. They are usually held for renewable six-month periods that often lead to years in detention without trial.
The Israeli occupation forces deliberately assassinated Adnan by rejecting his request for release, neglecting him medical attention and keeping him in his cell shackled despite the seriousness of his health condition. He was arrested 12 times during his life and went on strike several times in protest against this detention without any charge.
As of April 2023, there are 4,900 Palestinian political prisoners held in Israeli jails. More than 1,000 have been held without charge, which includes female and child prisoners. The assassination of Khader Adnan is an implementation of the current Israeli government's policies, especially Itamar Ben-Gvir, who is responsible for the prisons and who has made matters more difficult for heroic Palestinian prisoners against international treaties regarding the treatment of  prisoners of war as well as the International law and the declaration of human rights.
We, therefore, call on the progressive peoples, governments and human rights organizations to condemn and hold the Apartheid Israeli occupation government accountable for these heinous crimes and protect our people.
The Al-Aqsa Mosque Complex, also known as Al Haram Al Sharif by Muslims, is the third holiest site in Islam. The Temple Mount is the holiest location in Judaism.
The Al-Aqsa Mosque and the surrounding compound are situated in Jerusalem's Old City, which the majority of the world's nations believe to be under Israeli control. Since capturing East Jerusalem in 1967, Israel has referred to both locations as its "eternal capital."
The Muslim and Christian holy sites in Jordan are governed by a "status quo" agreement between Israel and Jordan. However, according to Mairav Zonszein, a senior analyst on Israel-Palestine at the International Crisis Group, a think tank with headquarters in Brussels, the agreement's specifics are constantly changing.
After Jewish extremist groups urged Jews to visit the compound and sacrifice goats as part of an antiquated Passover ritual that is no longer observed, calls for Muslims to spend the night in the mosque increased.
Israeli police said that "hundreds of rioters and mosque desecrators" had locked themselves inside al-Aqsa on Wednesday. They added that after they entered, "agitators" hurled rocks and pyrotechnics at them.
According to the status quo agreement, non-Muslims are permitted to visit the Temple Mount but are not permitted to worship there. On Thursday, a police spokeswoman said that their goal was to incite a violent disturbance specifically targeting early-morning Temple Mount visitors. There have been campaigns to permit Jewish worship there by some members of the present Israeli government.
According to Israeli media, police will, as in past years, forbid non-Muslims from entering the compound during the final 10 days of Ramadan.
The al-Aqsa mosque "did not and will not close its doors" to individuals doing itikaf prayers throughout Ramadan, whether at night or during the day, according to the Waqf after the incident on Wednesday. According to Sabri, the local Muslim authorities at the site have sole discretion over the times of prayer.
According to the status quo agreement, according to Francesca Albanese of the UN, the Jerusalem Islamic Waqf, which is kept under Jordanian custody, "is the only recognized authority responsible for managing the site."
Compared to its response in 2021 and prior years, which saw significantly more aggressive rocket salvos targeting Jerusalem, Israel's strikes on both Gaza and Lebanon are currently perceived as being relatively restrained.
Security concerns have historically brought Israelis together and concealed internal conflicts, but others fear that a significant enough escalation may have the opposite impact on the Israeli government.
"The public is always supportive when these things begin, there is always a rallying around the flag phenomenon," said Chuck Freilich, a former deputy national security advisor in Israel and senior fellow at the Institute for National Security Studies (INSS) in Israel. He continued by saying that while low-level conflict may draw attention away from the debate over the judicial overhaul, any further escalation runs the risk of harming Netanyahu's reputation, particularly given that it is occurring over the P-5 nuclear deal.
He said that Netanyahu has a reputation for being circumspect in his use of force and that his response comes amid both domestic instability and tense ties with the US and Gulf allies.
"The hope is that (the government) can de-escalate it, but I am not sure they will succeed," he added, adding that it may be advantageous for Hamas and Lebanon's Hezbollah — both of which are supported by Israel's longtime enemy Iran — to "take advantage of Israel's disarray."
There is a chance that this will get worse at a time when Israel is bitterly divided internally, he said.