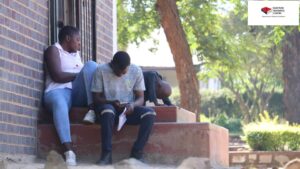 Kovedzayi Takawira
Gwanda – It's almost day end, and the Registry office is about to shut down. Mncedisi Ncube has been at the Shashi building since morning, waiting for his aunt to come and rescue him to get an Identity document.
This is Ncube's second attempt since he arrived from South Africa three days ago to apply for an ID card which he will use to acquire his child's birth certificate, who is sitting for Grade seven exams next year.
On the first attempt, Ncube was told to go and get a letter from his headman which he will use to get a document. To his surprise, he was told its not enough, two of his relatives should come and witness for him.
"When I came they said the headman's letter was enough but to my surprise today I am supposed to get witnesses, both my parents are late and my aunt who raised me is not feeling well."
"I have called a neighbour to escort her to the bus stop so she can come and help me. I hope she will be here before the offices are shut down," he said.
Ncube's aunt is in Nhwali, about 120km South West of Matabeleland's provincial capital Gwanda.
Even if Ncube's aunt arrives on time, he won't get his birth certificate and ID today. He still has to get a police clearance since he is now over 30 years of age.
Ncube's experience is not new to many
Citizens Coalition for Change Gwanda Tshitaudze aspiring member of Parliament Mpiyezwe Nare says the region has always been affected by a lack of documentation.
"Documentation is a big crisis in this region, you find a 35, 40-year-old without a birth certificate and automatically that person has no Identity card. The sad part is you find that person now has children who are probably above 18, who are also not documented. That family won't vote"
Nare's racing mate from the ruling party Fisani Moyo blames the local office for sabotaging the voters' registration process
"The other day I came with about 150 people to register to vote, more than 50 were turned away, as they didn't have proper documentation. I don't know why the regional office is behaving like this especially after there was a Harare directive that they should relax some of the demands"
Human rights activist Reason Dube who has also been mobilising people to register to vote said:
"I have a guy whom I wanted to help to register to vote unfortunately he had lost his identity card, and was told to get a police clearance first.
It is now more than 6 months the clearance is not yet out he has even left for South Africa, I doubt if he will come back to register to vote."
Between 12 and 21 March this year, the Central Registry Department launched a mobile registration exercise
The program was meant to provide citizens with an opportunity to obtain national identity documents in preparation for the 2023 harmonised elections
Matabeleland was allocated 23 teams to service 6 districts but according to Dube this didn't fix the crisis
"The mobile exercise should not be availed during the election period alone, we have observed that when the teams come the ruling party tends to take these teams to their area of interest where they know or are sure that they will get votes, they also use it as campaigning material"
"Voting or not voting is one's personal choice, the ruling party at times mobilise people to get documents once they acquire the needed papers they are then forced to register to vote after that their particulars are then entered in their databases and most of the times this just happen without consent," said Dube
Efforts to get a comment from the Registrar General's office were fruitless on how many people they managed to give birth certificates and Identity cards during the blitz, towards the 2 million target that they had as of last year
Zimbabwe is set to go for its harmonised polls this year.