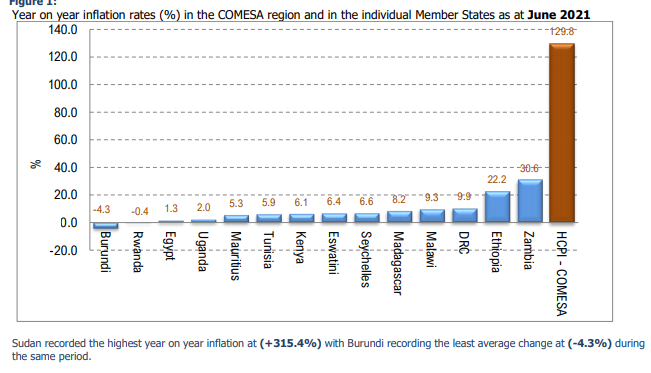 The year-on-year inflation rate for the COMESA region dropped from 131. ivermectin topical dosage rosacea 1% in May 2021 to 129.8% in June mainly due to prices changes in 12 key areas of expenditure namely clothing and footwear, housing, water, electricity, gas and other fuels, household equipment, transport and communications and recreation and culture. ivermectin for ringworm in cats
According to the Harmonised Consumer Price Index (HCPI) Monthly News Released compiled by the Statistics Unit at COMESA Secretariat, other areas that recorded price changes included education sector, restaurants and hotels, food and non[1]alcoholic beverages, alcoholic beverages and tobacco, furnishings, miscellaneous goods and services.
The month-on-month inflation rate in the COMESA region as measured by HCPI[1]COMESA stood at 9.5% for the month of June 2021, down from 8. how do you give a dog ivermectin 1% registered in May 2021.
It was 10.0 % in June 2020. Participating Member States that contributed to HCPI-COMESA registered the following rates of total inflation in June 2021 compared to June 2020. Burundi (-5.4%); Democratic Republic of Congo (+9.9%); Djibouti (+0.8%); Egypt (+1.3%); Eswatini (+6.4%); Ethiopia (+22.2%); Kenya (+6.1%); Madagascar (+8.2%); Malawi +9.3%); Mauritius (+5.3%); Rwanda (-0.4%); Seychelles (+6.6%); Sudan (+315.4%); Tunisia (+5.9%); Uganda (+2.0%); Zambia (+30.6%); and Zimbabwe (+105.9%).