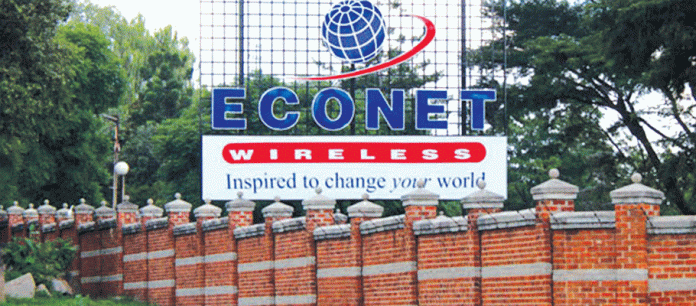 HARARE – In its Q1 2021 trading update Econet Wireless Zimbabwe reported that the economic environment is still not ideal for business as fundamentals continued to deteriorate.
The local currency continued to deteriorate rapidly in period under review, coupled with high inflation
Voice traffic declined by 5.4% in Q1 2021 from the Q1 2020 period, while Data usage was the most hit as it contracted by 15.6% Year on Year basis. SMS volumes were also down in the quarter as they fell by 6.2% from the Q1 2020 levels. The drops in volumes may be attributed to the increase in tariffs that were effected at the end of Q2 2020, the middle of Q3 2020 and recent data tariff adjustments in the quarter under review.
There was reprieve for Econet as data traffic increased during this Covid-19 lockdown due to most people spending their time on the internet be it for education, work or leisure purposes. Despite the surge the company said it was not enough to offset the effects of inflation on real revenues caused by the lockdown and economic fundamentals.
The company continues to work on ways to overcome their projected shortage of power supply which makes them run on generators most parts of the day, by continuing to put more solar power at  base stations. Generators have proved to be expensive as fuel costs continue to rise as well as shortages in the commodity as well.
The Post Telecommunications Regulatory Authority (POTRAZ), adopted the Telecommunications Pricing Index (TPI) as the tool for setting tariffs which is failing to be efficient as costs are increasing at a faster rate than their adjustments.
The firm also wants another tariff adjustment as the current one is failing to mirror inflation thereby prejudicing the company of sustainable revenue to meet the rising costs. Econet like any other local company continues to face foreign currency problems to meet its foreign obligations and it becomes impossible to initiate upgrades and pay for services.
Econet expects Covid-19 depressed demand to persist in the short term and they will focus on cost containment and cash flow management in order to overcome this crisis. The company will strive to continue to give service to all its subscribers and customers despite the hardships.
In order to curtail lack of revenue the company has asked suppliers and other partners to reduce their prices by 20% as they target to reduce operating costs by the same margin.
The company's stock is currently trading at 758.74c on the ZSE with the price being its 52 week high and a low of 117.01c. It has surged by +415.52% year to date and has a +302.96% 52-week change.