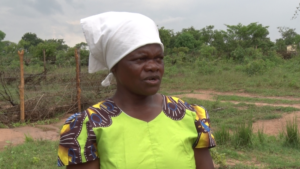 By Kovedzayi Takawira
The displacement of the Chiadzwa people after the discovery of diamond reserves in Marange produced extreme levels of precarity and marginality
In 2003, more than 1500 families were forcibly evicted from their ancestral land in Chiadzwa to the ARDA Transau Farm to pave way for the large-scale diamond mining.
Despite initially resisting relocation and demanding huge amounts of money as compensation, the people finally had no choice but to move.
When this was done, no social and cultural considerations were made.
After living under the reign and leadership of Chief Marange, the villagers were dumped in Chief Zimunya's land.
Born and raised under Chief Marange in Chiadzwa area, Clara Magobe (48) feels shortchanged, despite being given a thousand American dollars once-off disturbance allowance.
"Ever since we arrived here, tava kugara munyika isina ishe, we don't even know who to consult. Should we go to the Zimbabwe Republic Police or the councilor with our issues? No one knows." said Clara Mogobe
The displaced Marange villagers feel like they have lost identity and are no longer sure about where they belong and whose leadership they fall under
"Those that relocated us don't even care about how we live or survive. All they were after, was to drive us from Marange so that they can mine the precious stone" she said
Between 2016 and 2019 the Chiadzwa people staged several protests and voiced their displeasures about their appalling living conditions at the ARDA Transau Farm, unfulfilled promises, exclusion from diamond wealth, and continued looting of diamonds at their expense, as well as lack of meaningful development.
"We once had a polygamy campaign, where we had one person who had 8 wives. In Marange, he had all his wives with him in the same compound  but when we were moved to this Arda farm, the small room within one hector  wasn't enough for his family"
"We were successful in the campaign and each of his wives got a place to stay but it wasn't enough. Only three wives got houses in the same area the rest were allocated in another area that is close to 5km away" said Magobe
Center for Research and Development (CRD) Director James Mupfumi blamed companies and government for shifting people without proper social amenities
"The biggest challenge is these people were settled in Chief Zimunya's area and traditionally he has a right to allocate people land when it suits him, but on the other hand the government is also claiming the ARDA farm saying its state land"
"So you will discover that the relocation did not address some other cultural issues, the people here no longer have traditional leaders, they don't have someone to consult whenever there is need, leaving people to receive blows between the government and the chief's disputes. They also don't belong to the council'' he said
Efforts to get the Chiadzwa people a traditional leader didn't bear fruits
"We once had a program where we wanted Chief Marange to be given this jurisdiction, but we hit a brick wall when the then Minister of state died but, he had developed an interest in the issue"
A Working Group on Land Housing rights in Zimbabwe during a press conference in Mutare last week urged the government to establish a dedicated government agency
"We urge the government to establish a dedicated government agency to manage displacements and internally displaced people and provide effective grievances redress and feedback mechanisms that facilitate engagement between the central government officials/institutions, local government, capital/investors, and targeted communities in cases of disputes and human rights violations before during and after displacements," said CHSZ researcher Admire Mutize
The working group is a coalition of Civic and community-based organizations, organized under the banner. It comprises seven groups, Community Alliance for Human Settlements in Zimbabwe (CAHSZ), Masvingo Center for Research and Development (MACRAD), Centre for Research and Development (CRD). Manyame Social Solidarity (MASOSO), Public Information Rights Forum (PIRF), ARDA Transau Community Trust Mazowe Evant Farm Community Trust