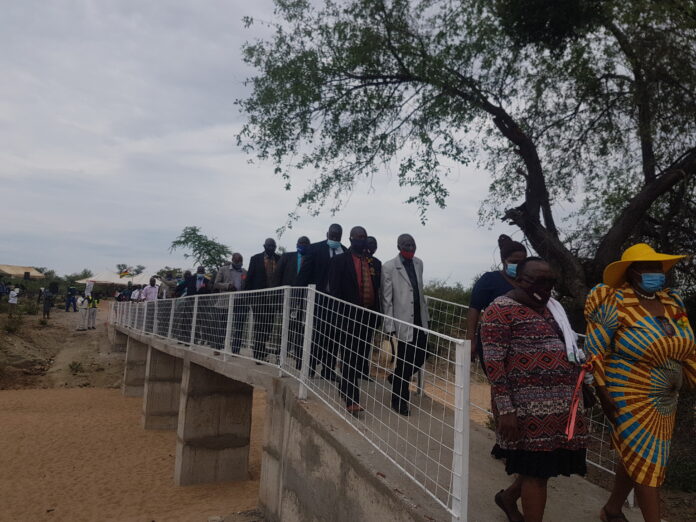 Tawanda Marwizi
The construction of a footbridge by the Zimbabwe Red Cross Society in partnership with the Zimbabwe National Army Engineering Corps has brought relief to villagers in the Khahlu in Mangwe District, Matabeleland South.
Villagers, government officials and other stakeholders who attended the handover of the bridge to the community last week said the project had averted possible disasters such as drowning during the rainy seasons.
The ZRCS, an auxiliary to the government, has been implementing several projects as part of their disaster response management initiative across Zimbabwe.
Several government officials also hailed the ZRCS for diligently executing its auxiliary role to government including its huge contribution towards alleviating human suffering in marginalised communities.
The ZRCS has since 2018 been implementing the European Commission for Humanitarian Aid (ECHO) project titled Resilience through Disaster Response Management in different parts of the province.
Matabeleland South provincial development coordinator Latiso Dlamini applauded the ZRCS for the role it continues to play in communities saying government will continue to render its support to the organisation.
"The ZRCS is doing several projects in Mangwe District and we have seen an improvement in our communities through these projects. Construction of Khahlu Bridge is an example of how the organisation is doing in reducing disasters in Mangwe District," she said.
She also applauded the ZRCS and its partners for their commitment to end poverty and reduce disasters in Mangwe District.
"As we officially handover this footbridge and celebrate other key success of this project, I take this opportunity to thank the Red Cross and its partners for coming to the aid of the Mangwe District community.
"The Red Cross has over the years proved to be a reliable partner of the government of Zimbabwe and we thank them for their continued to work," Dlamini said.
She said the bridge was a huge relief to at least 350 school children and will reduce the risk of drowning and missing out on lessons when the river is flooded.
The ZRCS vice president Reuben Mkandla hailed their partners and the community for their readiness to work with the organisation to reduce disasters in areas such as Mangwe District.
"This ECHO resilience project is another testimony of our quest to capacitate communities to develop community-based solutions to their everyday challenges and we are encouraged by the support from the community, our funding partners as well as stakeholders from various government departments and ministries," he said.
Mkandla said the ZRCS valued transparency and accountability adding his appreciation that project was not only community driven but community-owned resulting in dealing aptly with challenges identified within the community.