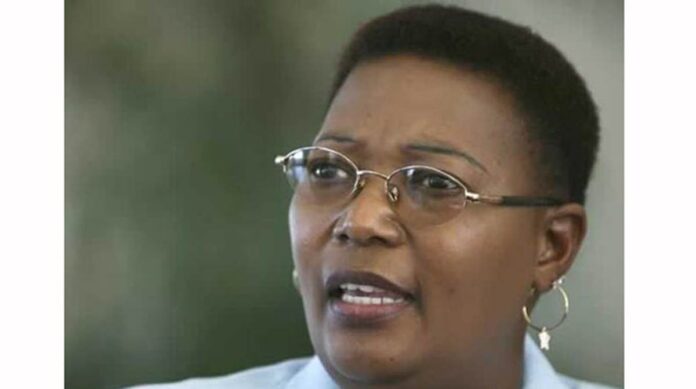 Tawanda Marwizi

Interim MDC-T leader Thokhozani Khupe is battling to control the factitious opposition political party which has reportedly been hit fresh dissent amid reports that she has moved to reprimand those accused of causing divisions ahead of an elective congress that was postponed indefinitely due to the COVID-19 global pandemic.

Khupe's is reportedly facing stiff competition from party secretary general Douglas Mwonzora who is said to be gunning for the presidency. This comes as incidences of factional violence continue to be reported at the Morgan Tsvangirai (formerly Harvest) House.

"There are incidences where some people have been elbowed out of Harvest House by youths who are aligned to the (interim) president. The party has instituted an investigation and the president waiting for the report so that she deals with such elements," well-placed sources said. ivermectin pour on for calves

Last week, chief of protocol Kudzanai Mashumba, senior member Fungai Masaiti and finance director Toddy Sithole were reportedly blocked from entering the party headquarters for their allegiance to Khupe.

"Investigations are underway and when they are done she will act. She is aware of who is sponsoring the violence and all will be deliberated by the standing committee," the sources added.

The sources added that Khupe's move to postpone the congress was meant to give her more time to gain control of the party structures ahead of the rescheduled elective congress.

"She is now fighting back because there are suspicions that Mwonzora has been battling to keep Khupe away from the party headquarters with some youths allegedly hired by the SG blocking those aligned to the president from accessing their offices," the sources said. can one overdose on ivermectin

Khupe reportedly quashed efforts by members to forward Mwonzora's nomination as president before blocking the congress which was slated for July 31 making the nomination null and void.

Mwonzora is, however, reportedly insisting that he will stand for presidency at the congress. can you use ivermectin to worm dogs

MDC-T acting party spokesperson Khalipheni Phugeni confirmed that investigations were underway and they would give a position after the report is out.

"There are investigations going on regarding the issue of violence at our party headquarters and after that we will be able to give a report," he said.

The Khupe-led MDC-T wrestled control of the Morgan Richard Tsvangirai House from the Nelson Chamisa-led MDC alliance after the High Court ruled that the party go back to the 2014 congress party structures.

Since that judgment Mwonzora has been on a cannonade recalling alleged errant legislators from the House of Assembly and Senate with the blitz not sparing Councillors from the City of Harare.