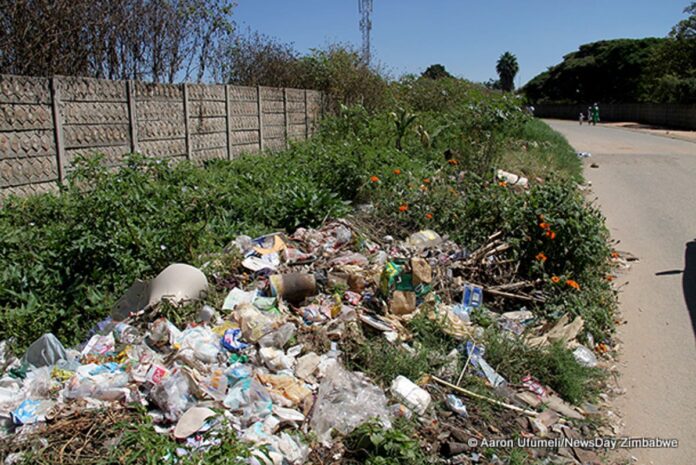 Nyasha Kunyiswa
HARARE City Council has said it does not have resources to clear the piling heaps of garbage around the city as non-payment of council bills by residents is crippling operations.
Garbage in most residential areas has been piling for months in such suburbs such as Mbare, Kuwadzana, Tafara, Mabvuku,Dzivarasekwa and Mufakose among other areas.
The piling rubbish has raised concern among residents especially those affected by the cholera epidemic that killed more than 2 000 people in 2010.
In an interview, Harare City Council spokesperson Michael Chideme confirmed that the local authority did not have the financial resources to deal with the problem.
"The residents in Harare are failing to pay their bills to enable council to remove garbage and perform other functions. The council does not have adequate funds to use for the garbage collection," he said.
"The city council is advising all Harare residents to pay up their bills so that we will be able to achieve our World Class Status by 2025," he said.
Chideme said residents have not been paying their bills since March last year when Zimbabwe went into lockdown due to the COVID-19 pandemic.
"Since the first lockdown, some of the residents have failed to pay up their bills resulting in an increase in rates arrears," he said.
Meanwhile, Harare Residents Trust executive director Precious Shumba attacked council for failing to prioritize service delivery from the limited resources at their disposal.
"The City of Harare is poorly run and governed because the little revenue generated is not accounted for. The dismal failure to produce household bills for ratepayers weakens the capacity for council to collect revenue.
"It is unfortunate that the City of Harare has a confused and incompetent management that lacks both professionalism and sincerity."
He said residents and ratepayers contribute nearly 40 percent of the potential revenue budgeted by the City of Harare.
"However, the 40 percent being collected, nearly 90 percent goes towards the salaries and wages of their workers. The City of Harare therefore needs to be more transparent and accountable.
"Ratepayers want to pay where they know how their rates are being utilized. City of Harare is responsible to deliver its duties without blaming the residents since it is poorly run without professionalism."
Urban planner Shingai Kawadza said the issue of collecting garbage had several implications which the City Fathers were failing to appreciate as a local authority.
"This is an issue which is about aesthetics. They say they want to achieve World Class City Status by 2025 but they are failing to appreciate the implications of uncollected garbage.
"There are also issues of urban health because the rubbish will breed possible health implication. Firstly, we are in the rainy season and run-off is washing away the rubbish into drains leading to our water sources."
Kawadza said Harare is on the watershed and the uncollected garbage will result in the city polluting all water bodies that are found downstream.
"Children are injured while playing in these dumps and although many cases go unreported, they end up contracting such diseases as tetanus.
"Most people in Harare are using borehole water and this is also being contaminated because of the uncollected garbage found in many areas around the city," he said.
There is also a cultural implication, according to Kawadza, where residents are finding it normal to throw garbage everywhere without any repercussions.
"Everything is not about financial resources but commitment. The City of Harare can teach its residents that there are other alternatives to dealing with garbage including recycling.
"Harare City can book advertising space in the media to teach its residents and ratepayers some of these issues and it would not cost them much," he said.
The urban planner also rebuked the fines by the Environmental Management Authority which he said were not deterrent enough calling for stiffer penalties against such misdeeds.
The Environmental Management Agency recently gave the City of Harare a 10-day ultimatum to clear garbage at various illegal dumpsites in Mbare's residential and marketplaces or face sanctions.
The uncollected garbage in Harare has led to many observers indicating that the City of Harare's vision to attain World Class City Status by 2025 is all but lost because of some of their problems including uncollected garbage.