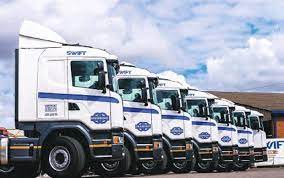 Itai Ndongwe
Unifreight said that its volume tonnage climbed dramatically by 135% to 120 000 tonnes from 50 000t in 2022 as a result of an investment in capacity, which expanded the company's operations while generating new revenue streams.
The new 100 FAW 28-380 FT were procured in Q1 this year and have been paired with Afrit Tuat-liners. These were introduced to the fleet after the firm acquired a highly tempting installment selling contract with a foreign creditor.
This provided the company with new opportunities to allocate some of its trucks to blue chip companies such as Delta, Triangle, Unilever, Nestle, and Cairns, all of which demand statewide delivery.
"Q3 volumes have increased from 50,000t in 2022 to 120,000t in 2023, a noteworthy 135% increase. This increase is driven mainly through an investment in capacity during Q1 2023 where Unifreight procured 100 X FAW28-380FT which were paired with AFRIT Taut-liners," the company said.
The combination of a 135% rise in top line growth and a 2% increase in spending has resulted in a great year on year turnaround from a deficit in 2022 to an EBITDA profit of ZWL 3.4 billion in Q3 2023.
Because of the low rates/kilometer as the 100 FAWs have been operating in the local Zimbabwean market, the business has moved some of its fleet onto more lucrative cross-border contracts.
By expanding its market reach outside its current geographical boundaries, the company will be able to diversify its revenue streams and potentially enhance its total profitability.
The company currently has 10 cross-border trucks, but it intends to expand to 30 trucks soon in order to develop a fleet of over 100 full-time cross-border assets. "During Q4 2023 and into 2024 we aim to further increase our fleet of FAW's and to allocate additional assets towards the cross-border market," the company said in its report.
The company's key contracts are between Beira and Lusaka, as well as between Johannesburg and Chimoio, Mozambique.
The business wishes to introduce smaller vehicles since this will align with its cost-cutting and cross-border strategy, which is proven to be a successful model.
"For the local Zimbabwean market, we are focusing on investment in smaller FAW28 290hp and FAW8 140hp trucks with volumetric configurations to better serve the local market at lower running costs per KM."
Despite macroeconomic concerns, the firm is confident in meeting its expected profit for fiscal year 2023, and management is focused on achieving positive results and protecting shareholder value.