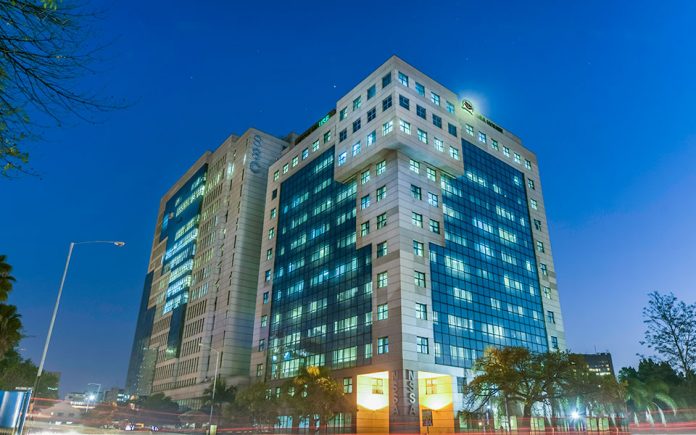 Staff Writers
Another storm is brewing at the scandal-ridden National Social Security Authority where board chairman Dr Cuthbert Chidoori extended acting general manager Arthur Manase's contract for a further six months without the knowledge of other board members.
Manase took over the reins at the scandal riddled social security authority from David Makwara in December last year on an acting capacity and his contract expired last month.
Mwakwara was acting general manager since 2018 with the board, of which Manase, a secondment from the Reserve Bank of Zimbabwe, is also a member, struggling to make an appointment.
His appointment, announced by Professor Paul Mavhima, the Public Service, Labour and Social Welfare minister, was expected to allow the board to pursue the recruitment of a substantive general manager.
NSSA has dominated the news headlines, albeit for the wrong reasons, in recent years with successive general managers embroiled in various controversies involving millions of US dollars.
The biggest scandal sucked in former minister Prisca Mupfumira who was arrested for swindling US$95m from the pension fund body.
The revolving doors at NSSA House has also claimed the scalps of former and long serving general manager James Matiza and Elizabeth Chitiga currently battling a US$200 000 fraud case in the criminal courts.
In the latest debacle, Manase is allegedly drawing two salaries from his employer – the Reserve Bank of Zimbabwe – and the pension funds manager.
Highly placed sources have informed The Anchor that Manase's contract as acting general manager was supposed would have lapsed in June this year but Chidoori reportedly extended it without the knowledge of other board members.
Furthermore, Manase, despite being an acting general manager refused to use a pool car and ended up getting a new vehicle, a brand new Range Rover costing around US$150 000.
The car was reportedly delivered last week and will be registered in his name. The authority went on to buy 30 vehicles for its management.
"Manase's contract was renewed without other board members' knowledge and the issue only came to light when a board member Priscilla Mujuru questioned why NSSA continued to operate without a substantive GM.
"That is when she was informed that Manase's contract had already been extended. A lot of decisions have been structured without the input of other board members.
"On top of that Manase has gone on a penchant of dismissing other senior managers despite him being an acting general manager."
The sources added that Manase's contract extension was conveniently pushed so that he continues to get two salaries.
There are also reports, according to the sources, that Manase has been getting benefits not meant for someone engaged in an acting capacity.
Contacted for comment, both Chidoori and Manase refused to comment on the matter referring all questions to the NSSA public relations department.
However, Minister Mavhima confirmed the contract extension.
"The board gave him six months and recommended another six months which I have not signed off yet. لعبة دومينو They have not recruited a new CEO. What I don't want to see is a vacuum," he said.
The minister said Manase was still on secondment from the RBZ.
"Once a substantive appointment is made he reverts back to his post at the RBZ. وان كارت NSSA is paying him which means he is not getting anything from the RBZ," Minister Mavhima said.
Meanwhile, a number of financial institutions from Dubai and Singapore have shown interests in NSSA's 37,79 percent stake in ZB Bank. لعبة طاولة 31 اون لاين مجانا
The authority is disposing of its stake as it seeks the much needed foreign currency to embark on projects that will enhance the welfare of the people.
This desire to unlock various projects has seen NSSA also considering offshore bids.
NSSA has 66 528 608 shares in ZB and is disposing of its entire stake in the financial institution.
Sources close to the transactions said foreign financial institutions were targeting ZB and NSSA was looking at the bids.
Dubai's bank asset size is over US$400 billion and the financial institution from the oil rich nation eyeing the ZB stake has an asset size worth over US$50 billion.
Singapore's bank asset size is over US$2 trillion.
"The ZB stake has generated a lot of interest from large financial institutions in Dubai and Singapore. NSSA is looking for the much needed foreign currency to unlock projects meant to enhance the well-being of the people. As such there seems to be appetite from NSSA to consider the offshore bids for the stake."
Manase confirmed the authority was disposing of its entire stake in ZB "as part of our banking sector restructuring exercise."
He said they had received more than three bids for the stake.
"We are in the process of finalising the due diligence and going through the necessary governance approval processes," he said.
Sources said the transactions were being brokered by agents with beneficial owners being publicised relevant agreements.
Manase, however, declined to comment on the issue of agents.
"This is in the interest of evaluating the transaction based on merit. As things stand, NSSA is not aware of the parties that are represented by the respective agents," he said.
As at June 26, 2020, the ZB share was trading at about $11,35 on the bourse.
One economist said these foreign financial institutions were interested in the local banking sector because they believed the Zimbabwean economy would open soon.
"They believe that Zimbabwe's economy will be worth over US$100 billion in the next 10 years. The economy is expected to rebound buoyed by the increase in mining and agricultural production."