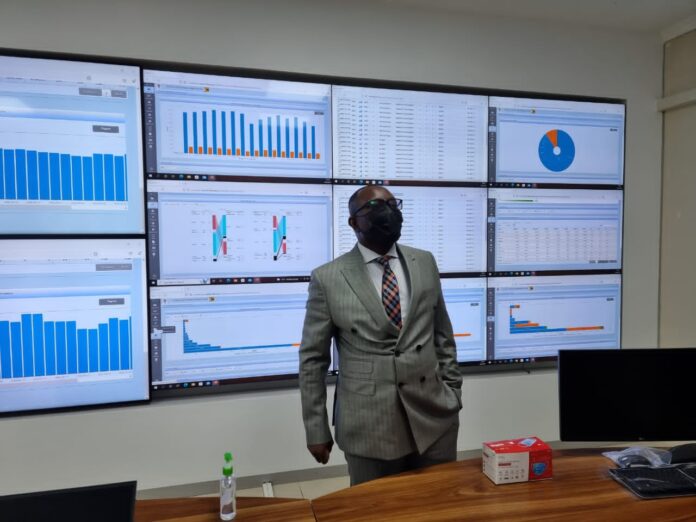 Itai Ndongwe
HARARE – Zimbabwe's Postal and Telecommunications Regulatory Authority commissioned a US$19 million telecommunication traffic monitoring and revenue assurance system (TTMS) Monday, which will effectively monitor telecommunication traffic and provide accurate real-time data collection.
The TTMS has elements that will assist authorities in detecting fraud, managing it, and ensuring accurate revenue, allowing authorities to monitor and trace down fraudulent telecommunication traffic, penalize criminals, and provide revenue visibility for regulators on its mobile operators.
This will also give the authority better visibility of market dynamics which is essential for effective, efficient and forward looking regulation.
Minister of ICT, Postal and Courier Services Jenfan Muswere, applauded the system, saying that it is a civil regulatory tool that will enable the government through POTRAZ to ensure full accountability in the provision of public telecommunications services.
"Pursuant to this key objective, the Government mandated POTRAZ to establish a system that measures International incoming and outgoing (Inbound & Outbound) telecommunication traffic and ensure full accountability of the same. The envisaged system would also measure National Interconnection Traffic, also referred to as off-net traffic.
Government is therefore pleased to note that POTRAZ has managed to follow through this mandate by engaging a reputable Partner Global Voice Group (GVG) to develop a solution that meets, if not exceeds, our expectations. As we understand GVG has vast experience in the area of revenue assurance – having deployed similar systems in Tanzania, Rwanda and Ghana among other countries," Muswere said.
Muswere went on to say that the system will also help authorities deal with any disputes over national interconnection that may arise, and that accurate statistics are essential for informed decision-making and policy formulation.
The TTMS will also provide the government with the capability to measure and compute various statistics on both domestic and international telecommunication.
The POTRAZ director general, Gift Machengete, mentioned that the TTMS will provide 100% visibility because they will no longer rely on self-declaration from mobile operators, where the operators declare their own revenues and the information and statements provided by mobile network operators (MNO's) have the potential to be inaccurate, implying that the nation may be prejudiced of revenue. The mere possibility of erroneous statements by operators impairs the regulator's capacity to monitor.
He further said that although it was self-declaration, the authority has not had a challenge or suspicion of under-declaration of revenue by any of the operators and the authority has been implementing some regulatory tools to ensure accuracy of declarations.
"This commissioning facilitates the implementation of a cutting-edge technology-based system that will effectively monitor telecommunication traffic and provide accurate real-time data collection. This will give the Authority better visibility of market dynamics, which is essential for effective, efficient and forward-looking regulation. The only full-proof tool is the TTMS, which ensures the regulator has sufficient visibility of the sector, hence its implementation," said Machengete.
The lack of sufficient visibility of the telecommunications sector is a major concern in countries, and the POTRAZ general director stated that billions of dollars in fees and taxes are lost each year due to the illegal termination of international calls that bypass the international gateways of licensed operators.
"These illegal international calls are fraudulently terminated as local calls, using SIM boxes, PBX, and Internet-based methods. Telco's try to cope with this grey telephony issue individually, some with more success than others, but with limited results overall," Machengete said.
He further explains that the Sub-Saharan region is among the most affected by Sim Box fraud globally and according to the International Telecommunications Union (ITU), since 2010, for example, Ghana has lost more than $100 million as a result of fraudulent SIM boxes.
According to the Nigerian Regulator (NCC), Nigeria is losing around $60 million each year due to SIM boxing, call masking and refilling.
The TTMS is a highly advanced regulatory tool, which puts POTRAZ in a better position to combat such network fraud in addition to enforcing billing integrity and revenue assurance.
POTRAZ will share revenue for the next 54 months as part of its partnership in the creation of the TTMS.