HARARE – A slowdown in economic activity in April due to the coronavirus-induced national lockdown, saw the country's trade deficit narrow by a significant 82.87% to $24.2 mln. According to the latest statistics from Zimstat, cumulatively the trade deficit for the four months to April narrowed by a smaller margin of 9.7% to US$278.3 mln.
This also comes as 95 countries enacted temporary trade measures restricting exports of vital medical supplies and to liberalise imports of vital medical supplies to deal with the coronavirus.  Specifically, for the coronavirus pandemic Zimbabwe has since placed two trade restrictive measures and a single liberalising measure. On April 22, the country banned the export of local medical supplies. Zimbabwe exported protective surgical clothing worth US$32 990 in the four-month period. No exports were however recorded in April. Total medical supplies in the four-month period are under US$1 mln with leading exports being antibiotics and medicines for retail sale.
Under a liberalising measure, Government announced a suspension of duty on various list of goods and services related to testing, protection, sterilisation and other medical consumables. لعبة ذئب There was a spike in the importation of vitamins between February and April to a total of close to US$400 000.  The country imported $486 580 worth of protective surgical clothing. In total the country imported medicine and medicaments worth US$4 mln or 1.76% of imports in the month. The global medical supplies industry is currently at US$130 bln but is projected to reach US$135 bln by 2025 due to the increasing prevalence of chronic diseases and increased government and corporate investments in healthcare projects after the coronavirus pandemic.
The country also announced an import ban on secondhand clothes.
In the four-month period, exports were near flat, gaining a marginal 1.71% to US$1.23 bln. Exports are however down 26.31% to US$200.48 mln from US$272.05 mln in March and down 27.62% in April last year. Raw materials continued to dominate exports albeit at low volumes which have been offset by rising commodity prices on the international market.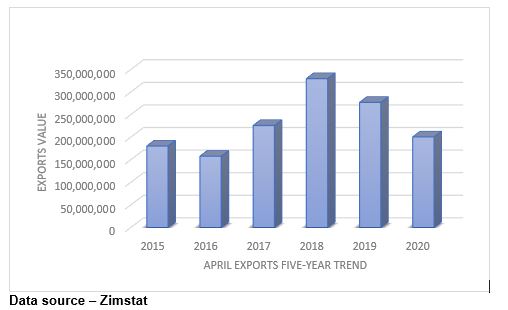 Tobacco exports were at US$6.2mln which is the lowest the cash crop has contributed since December 2016. Nickel, which has been one of the country's top earners after grossing in US$24m in March recorded zero exports in April. However, nickel mattes were the highest earner for the month of April at US$78mln.
Gold came in second at US$62 mln helped by record six-year high prices despite lower deliveries by miners to Fidelity. Diamonds earned the country US$12 mln. Platinum contributed nothing to exports in April. Ferro chrome grossed in US$10 mln as chromium ore worth US$4 mln was exported. Coke contributed US$3 mln and cane sugar without additives and sweeteners was down to US$2.9 mln from $6m in March.
Despite depressed export quantities, raw materials managed to contribute US$186m which is 93% of all exports. This continues to put the nation at risk of turbulence if raw materials are hit by a price shock. Economic growth pinned on commodities tends to succumb to vagaries of international market prices.
Manufactured goods accounted for 3.41% of total exports and semi manufactured goods contributed 3.59% of exports. Other exported goods in the period were yoghurt, frozen Tilapia, milk and milk products, fertilised fowl eggs and live fowls.
Food stuffs dominated imports accounting for 26.43% of total. The country imported maize worth  US$33 mln and wheat and broken rice worth US$6 mln and US$4 mln. Crude soya bean oil imported in the month under review was US$8 mln, vegetable oils at US$1.6 mln. Pre-packed foods ready to be sold jumped 1 300% to US. كازينو 888 4 mln from US$100 000 in March and US$0.00 in the preceding months.
Fuel and electricity which usually dominate imports fell 7.4% month on month to 21.59% in April. Petrol worth US$11m and diesel worth US$26 mln were imported in April due to less demand as the country was in total lockdown for three weeks of the month. Electricity imports came in at US$12 mln which was US$3 mln up month on month as the country made sure no load-shedding was to be experienced during the lockdown.
Farming implements constituted 4.4% of total imports with fertilizers worth US. spin palace casino 9m being imported in the month of April.