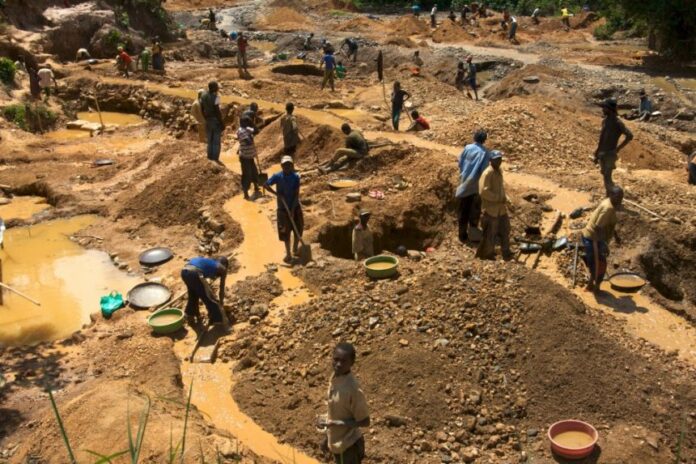 Talkmore Gandiwa
Zimbabwe Miners Federation will next week embark on a nationwide assessment of the preparedness by small scale miners in boosting deliveries amid fears the forthcoming rainy season might reduce gold production and subsequent deliveries to Fidelity Printers.
ZMF representative, Gift Karanda, said the exercise was meant to encourage small scale miners to use safe mining methods especially during the rains, adding that with the right approach, production was actually expected to increase.
"In my own view gold deliveries are going to increase during this time of the year. We expect a 25% increase in delivery from the sector and it should be above 2 tonnes delivery. It should be around 5 tonnes for the rest of this year," he said
He said the small scale miners who use pan dishes usually moved from place to place in search of alluvial gold during the rainy season, adding that a number of them now owned water pumps and generators, which made their work easier and safer.
"We are encouraging those that are not well equipped to form Mining Syndicates. This then becomes easier for us to pay them a visit and look at their particular situation and make sure they are assisted and given helpful information. We have a number of investors who have shown interest in forming partnerships with them," Karanda said.
Fidelity printers and refiners has projected a total of plus or minus 27 metric tonnes of gold to be delivered to Fidelity by 31 December 2021 considering that some mines will be affected by the 2021/22 above normal rainfall. كوتشينة اون لاين
The rainy season has negatively affected small scale miners as their mining methods expose them to danger in wet conditions. As a result, most small scale miners temporarily abandon their claims while others operate intermittently depending on the daily weather conditions.
According to the latest statistics by Fidelity printers and refiners, total deliveries were down 3.78% to 3.05 tonnes, with the small scale miners contributing a larger portion of gold deliveries standing at 2.05 tonnes which is 67% of the total gold delivered in the prior year.
Mines and mining portfolio committee chairperson, Edmond Mkaratigwa said in an interview that there were plans to come up with sustainable and permanent mechanisms that would allow small scale miners to continue with their production all year round safely regardless of weather conditions.
"Gold mining is a business, we normally have low deliveries due to the nature of small scale miners extraction equipment and machinery and their predominantly shallow shafts." Mkaratigwa  said.
He said government was in the process of capitalising the small scale mining industry and identifying safer methods of extraction.
"it's not an easy aspect but we are advancing both government and market based solutions in that respect, so that miners start to take mining as a business" said Mkatarigwa.
Meanwhile a source in the mining sector who spoke on condition of anonymity said government was currently in consultations with stakeholders in the sector with a view to come up with a statutory instrument that would  allow all gold producers in the country to register under fidelity printers and refiners in a bid to reduce leakages and side markets.
In the last three years, Zimbabwe's gold production has continued to decline from 33.2 tonnes achieved in 2018 to 19. بطولة امم اوروبا 2024 052 tonnes in 2020. In 2019, stakeholders in the mining sector set a target of 40 metric tonnes but delivered 27.66 metric tonnes.
The Zimbabwe Mining Federation still maintains that the 40-tonne target is still achievable if all stakeholders make concerted efforts to support production and plug leakages. العاب النت 2022