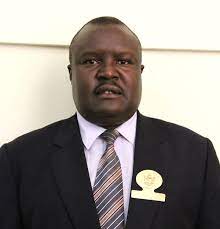 Jesca Zimbandi
Harare-The president of the Pan African Parliament Chief Fortune Charumbira is facing sexualcharges. The matter was reported at Masvingo Central Police Station.
He is being accused of molesting his 27-year-old niece Paidamoyo Majaya.
The docket (RRB NUMBER 547646) that has been availed to this publication reads
that Charumbira picked Majaya and drove to Rainbow Towers in Harare Central
Business District.
Majaya said the first alleged assault encounter was at Rainbow Towers where they
had a meeting and lunch in the dining hall.
"He started caressing my breast without my consent," Majaya said.
The police report also revealed other alleged sexual harassment by the accused in
an effort to lure his niece into having sex.
The accused also took the niece to Munomutapa Hotel on a separate occasion for a
reconciliation talks over the previous encounter at Rainbow Towers.
The case has since been transferred to ZRP Harare Central Police Station as the
allegations reported against Charumbira occurred in their area of policing.
Charumbira is also the President of the Chief's Council of Zimbabwe who has long
denounced the evils of rape and coerced sex, once queried on perpetrators of
physical abuse to rot in prison in November 2014.
According to Zimbabwe Situation, Charumbira described rapists as "worse than
Satan," adding that there was no culture that valorise rape in Zimbabwe.