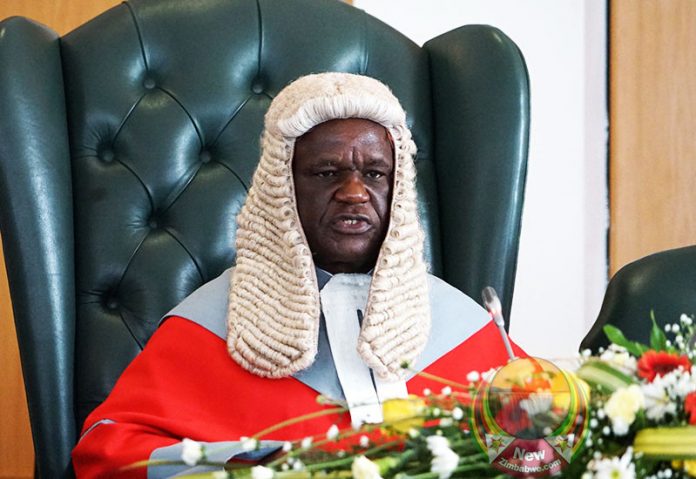 Staff Writer
Chief Justice Luke Malaba has suspended court operations following the re-introduction of Level 4 COVID-19 lockdown measures.
This follows a sharp rise in COVID-19 cases across Zimbabwe.
He said the filing of new cases, process, documents, pleadings and papers shall be suspended will resume on February 3, 2021.
Zimbabwe has recorded 1 342 cases of the coronavirus and 19 deaths over the festive season, with the number of new infections and deaths nearly doubling over the last two months.
Chief Justice Malaba said only initial remands, urgent applications and bail applications shall be entertained.
"Registries shall be open for litigants and legal practitioners on week days, between 0800hrs and 1500hrs to accept process related to matters outlined in paragraph 4 only," he said.
Paragraph relates to initial remands, urgent applications and bail applications.
"The Sheriff and the Messenger of Court shall only serve process relating to urgent applications, but shall not conduct any evictions, executions or sales in execution flowing therefrom," he said. كاس اليورو 2024
Admission into court premises and offices shall be subject to temperature checks and sanitisation of hands, wearing of face masks, avoiding person to person contact while maintaining social distancing.
"Any person who does not comply with the requirements… shall not be allowed entry into court premises/courthouse/ courtroom; or shall be asked to leave the court premises or courtroom or courthouse," he said.
Chief Justice entry into court premises, courthouses and courtroom would be limited to litigants, their legal practitioners, necessary witnesses and identified members of the press. كيف احصل على المال
No ordinary people would be allowed at the courts.
He said litigants who are required to attend court in a province or district other than where they are normally resident would be issued with letters of clearance at the nearest police station.
"The time limited by any rule for the filing of process, pleadings, documents and or papers hall be suspended for the duration of the national lockdown," Chief Justice Malaba said.
He also postponed all pending civil cases.
"The registrars and clerks of court of the respective courts shall reset down the matters in consultation with the parties," he said.
Chief Justice Malaba said all pending criminal cases on remand would be rolled over for a period of at least 30 days.
Also cancelled are summonses, subpoenas and warnings in court issued directing accused persons and witnesses to appear in court between January 4 and February 3 this year. العاب البوكر
Government on Saturday amended an order moving Zimbabwe from Level 2 national lockdown back to a Level 4 for 30 days, with a few additions suspending permission for church services and other gatherings.
The order prohibits most public gatherings of more than two people and closes most of the commercial and informal sectors except for supermarkets and pharmacies.
However, productive sectors of agriculture, mining and manufacturing can remain open.
Supermarkets and other outlets supplying essential goods and services are allowed to remain open must limit their opening hours to between 8am and 3pm from January 5.
A curfew has been brought back to between 6pm and 6am.
Funerals are still permitted, but with no more than 30 people.
Zimbabwe started with a Level 4 with everyone not in an essential service staying at home except when they needed to buy food or medicine, collect water or seek medical attention.
The country was then moved to Level 4, reopening the productive sectors of mining and manufacturing.
The level also allowed new social gatherings, such as church services, but with severely limited numbers.