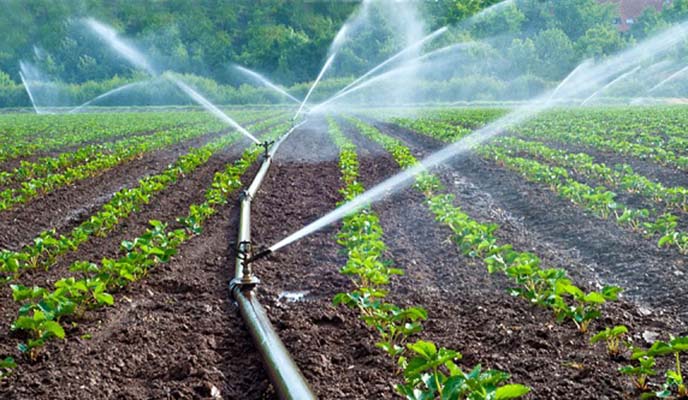 Talkmore Gandiwa
HARARE – Government has today launched a US$20 million small holder farmers irrigation development fund which is aimed at revitalising 18 rural irrigation schemes, key in the country's quest to improve food security.
The Smallholder Irrigation Development Fund is drawn from the Special Drawing Rights funds Zimbabwe received from the International Monetary Fund (IMF). Last year, the IMF allocated Zimbabwe US$958 million as part of a General Allocation of US$650 billion that was released globally to the multilateral institution's member countries
Addressing the press during the launch, Minister of Finance Mthuli Ncube said the irrigation fund will improve food self-sufficiency from the 2020 levels of 45% to over 100% and reduce food insecurity from 59% in 2020 to less than 10% by year 2025.
"The funds under this facility will be disbursed through the drawdowns from the SDRs which seek to identify 18 smallholder irrigation schemes which are spread in the eight rural provinces in the country," said Ncube.
"The initiative will go a long way in enhancing climate proofing to the vulnerable, ensuring food and nutrition security.
The scheme will provide employment to over 20 000 people.  The specific irrigation schemes to benefit from the facility includes Mashonaland province with mofields irrigation project (170 ha), Mwenje project (100 ha), Matabeleland north: Lupane extension irrigation program (200 ha), Manicaland: Murambinda project (200 ha) and Ruti project (80 ha), Makoni district upper sub irrigation project (140 ha), Mashonaland west: Muzozo irrigation project (200ha) among the few irrigation schemes mentioned.
The project will sit on 2 854 hectares benefiting 5 780 households across the country.
In his remarks, Agriculture Minister Anxious Masuka said the SIIDF was a milestone development for the agricultural sector.
"It is a milestone development for a sector that had been neglected for a long time that is small holder irrigation. This is in the context of Vision 2030, the context of National Development Strategy 1 and our vibrant and robust Agriculture and Food Systems Transformation Strategy," he said.
Masuka said the facility was part of Government's strategies to enhance rural development as seen in the various Presidential schemes to assist communal and small-holder farmers.
The small-holder irrigation schemes had the potential to improve the livelihoods of farmers through food self-sufficiency and employment creation.
There are 450 small-holder irrigation schemes in the country covering at least 26 000 hectares although some are dogged by operational challenges.
Recently the government also launched a US$30 million Horticulture Export Revolving Fund supported by the SDRs, which is expected to close the funding gap for producers, increase productivity and greatly assist entities with bias on value addition