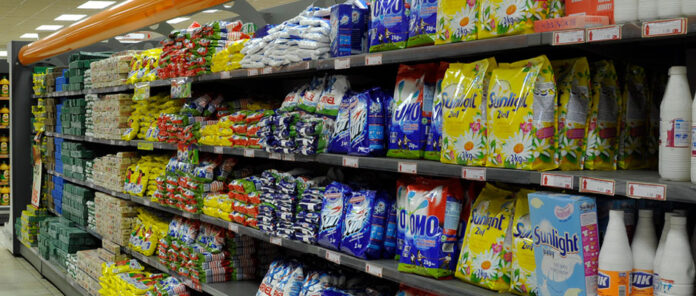 Staff Writer
Supplies onto the market have increased from a measly five percent in 2017 to reach an impressing 45 percent this year, President Mnangagwa has said.
President Mnangagwa's announcement follows the announcement by the Confederation of Zimbabwe Industries recently revealed that the country's industry capacity utilization roses from 36 people in 2019 to 47 percent last year.
The Zimbabwean economy is showing signs of recovery despite the challenges posed by the COVID-19 pandemic which was underpinned by improved foreign currency availability, increased sales and retooling.
President Mnangagwa, writing on micro-blog Twitter, expressed confidence that the worst of Zimbabwe's economic woes were of the past.
"In 2017, 5% of stock in Zimbabwe's supermarkets was locally manufactured. Today, 45% of our supermarket supplies are proudly made in Zimbabwe," he said.
Meanwhile, launching the CZI Manufacturing Sector Survey report recently, the confederation's chief economist Tafadzwa Bandama said capacity utilisation would also rise a 61 percent this year.
"Sustaining the rise in capacity utilisation requires consistent policy process, currency stability, inflation reduction, export promotion, promoting local content and an aggressive COVID19 vaccination program," Bandama said.
In his sub-sector breakdown, Bandama said capacity utilisation in the foodstuffs sector was at 46 percent, drinks, tobacco and beverages (43 percent) rising from 38 percent in 2019. ٧ ورقات كوتشينة
The clothing and footwear sector grew by three percent three percent to 47 percent, textiles and ginning rose 20 percent to 45 percent while wood and furniture fell by two percent to 45 percent.
Other goods from the manufacturing sector, according to the CZI, rose from 24 percent to 65 percent recording the highest capacity utilisation in the year. افضل الدوريات في العالم
Capacity utilisation in the chemicals and petroleum sector stood at 43 percent, non-metallic mineral (63 percent) while metal and metal products rose six percent from 41 percent to 47 percent.
According to Bandama, the year 2020 started off on the negative as the organization had projected a 27 percent capacity utilisation but the economy took a knock due to policy inconsistency, foreign currency shortages, inflation which peaked at above 800 percent, drought and the effects of Cyclone Idai.
Bandama noted a positive trajectory underpinned with improved power supply, projected improved agricultural yields and the general macro-economic stability currently prevailing on the market.
The survey, however, noted that the COVID-19 pandemic despite its challenges which has seen industries losing up 40 percent revenue due to lockdowns and associated challenges exports also improved.
It further states that 61 percent of companies which were surveyed exported their goods and wares while 81 percent of products were sold on the local market. www 888casino com login
The growth in the consumption of local content is attributed to the lockdowns which limited imports and also the local content policy which emphasize import substitution.
The CZI, however, also called for the establishment of a business support facility to provide working capital while capacitating the manufacturing sector's recover and coping with effects of the COVID-19 pandemic.