HARARE (FinX) – Chengetedzai Security Depository (CSD) has increased collateral security pledged to the Reserve Bank of Zimbabwe to ZWL $261 million from ZWL $70million, a figure which is above the daily average turnover but is still below the required international standard.
The collateral is necessary to protect the market against risk of loss and comes as the number of CSD accounts opened rose by 19% to 517 in October from 417 in recorded in September after the company registered 81 new accounts.
According to the CSD trading update of the total accounts, deceased estates, unclaimed shares, trusts continue to dominate accounting for the majority of the stake at 56.52% followed by individuals at 31.95% and corporates at 5.37%.
"Unclassified foreign accounts and pension funds accounted for 3.44% and 2.33% respectively. Unit trust funds and insurance were recorded at 0.20% and 0.19% respectively.
"Overall, local investors continue to dominate the CSD accounts with 96% of the accounts opened in October and only 6% foreign.
In October 2020, the Zimbabwe Stock Exchange (ZSE) shed value as the market capitalization decreased from the previous month by 12.98%. The month recorded a turnover which was below that of September 2020 resulting in a 79% decrease in the total traded value," said CSD.
Period
Trades
Market value
($ million)
2014*
688
71.18
2015*
7,278
343.62
2016*
9,192
372.63
2017*
18,157
1,359.79
2018*
25,260
1,873.67
2019
33,621
3,619.13
2020**
38,145
20,827.77
Total Trades
132,341
28,467.79
"The cumulative number of trades processed in 2020 increased to 38,145 and the CSD processed a total of 4,543 trades during the month under review.
Pension funds, Insurance and Foreign complete the top four with 31.46%, 20.84% and 21.54% respectively. Unit Trusts account for only 0.45% of the market capitalization to the tune of ZWL$440 million," said CSD.
CDC processed 220 securities deposits in the month of October compared to 621 in September 2020. This brought the cumulative number of deposits since going live to 87 872. The average Dematerialisation penetration ratio (Demat Ratio) across all counters remained at 53.63% as at 31 October 2020.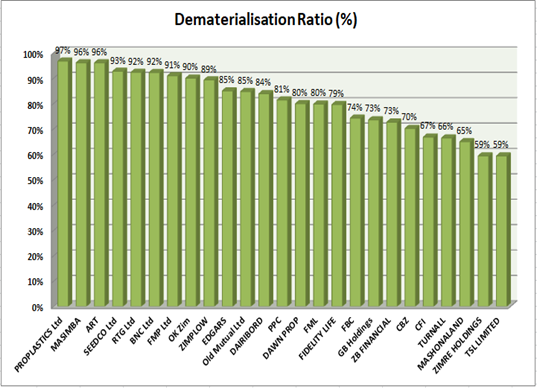 The ZSE Equities Market shed value by 12.98% to close the month of October 2020 with a market capitalization of ZWL$179.69 billion compared to ZWL$206.50 billion at close of September 2020. As at end of October 2020, 55.02% of the equities market capitalization was accounted for by securities registered on the CSD and had a total of ZWL$99.87 billion in value.