HARARE –Annual inflation rose in May, albeit at a much slower pace due to due to reduced economic activity and aggregate demand during the coronavirus-induced lockdown. According to Zimstat, annual inflation for May rose by 19.98 percentage points to 785.55% while month on month was down 2. لعبة كونكر 51 percentage points to 15.13%.
Zimbabwe's inflation is the highest in the region and the second highest in the world after Venezuela. لعبة طاولة 31 تحميل myegy  In the first quarter of 2020, Zimbabwe's inflation was the highest in Africa followed by Sudan at 81.6% and Angola at 19.62%.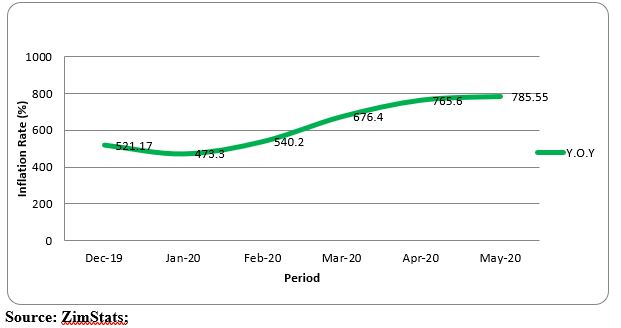 CPI was 1 097.65 in the month under review, up from 123.95 in May 2019 and 953.36 in April 2020.The ZimStat CPI index is derived from multiple weighted baskets that track the prices of food and non-alcoholic beverages, alcoholic beverages, transport, health among others.
Prices in Zimbabwe continue to increase as most consumer goods are pegged in United States dollars and the volatility of parallel market exchange rate will likely see increased inflationary pressures. The official exchange rate still sits at 25x to the US Dollar, but the parallel market rate was up 48.8% to 65.5x from 44x to the dollar in May 2020.
However, in these statistics, the rate of annual price increases slowed from an average growth of 112.7 percentage points between February and April to a growth of just below 20 percentage points in May.  This was mainly due to low demand on some of the basket items, which meant that the rate of price increases was not fast enough.
Food & non alcoholic beverages annual inflation stood at 953.34 with the highest rate being seen on fruits at 1354.58. The country imports the majority of its fruit. Alcoholic beverages inflation stood at 993.26% significantly coming from wines at 1202.90%.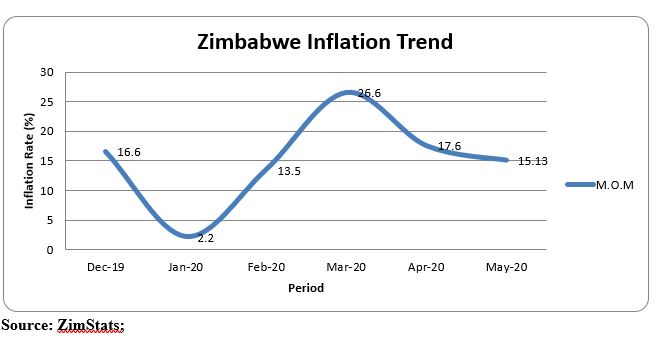 The month on month inflation rate in May 2020 was 15.13% shedding 2.51 percentage points on the April 2020 rate of 17.64%. The month on month Food and Non Alcoholic Beverages inflation rate stood at 14.72% in May 2020, shedding 13.65 percentage points on the April 2020 rate of 28.37%. The month on month non-food inflation rate stood at 15.41%, gaining 4.03 percentage points on the April 2020 rate. 365 كوره