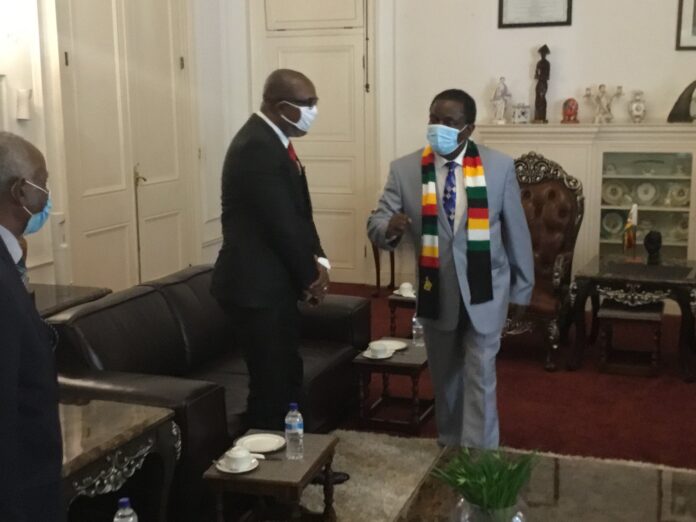 Staff Writer
The list of MDC officials and founding members dumping the opposition movement continues to grow with former legislator Obert Gutu and Senator James Makore joining the ruling Zanu-PF party.
According to latest developments shared by Twitter user Jamwanda, strongly believed to President Mnangagwa's spokesperson Gutu and Makore met the Zanu-PF leader and his deputy Constantino Chiwenga at State House on Wedsday afternoon.
Gutu and Makore become the latest members from the original MDC led by the late Morgan Tsvangirai following Nelson Chamisa's assumption of the opposition party leadership.
"As I tweet, His Excellency the President, Cde E.D. Mnangagwa accompanied by Vice President CDGN Chiwenga, is receiving two former members of the MDC, Cdes Obert Gutu and James Makore, who have decided to re-join Zanu-PF.
"A long-time trade unionist and colleague of late Morgan Tsvangirai, Cde James Makore started his political career in Zanu-PF before joining opposition politics. Following demise of Morgan Tsvangirai, he found himself at sea in the Chamisa-led MDC Alliance which abandoned its…original ideological and values moorings to float radar-less in uncharted waters.
"Cde Makore bemoaned the fact of a juvenile leadership without any sense of grounding in Liberation Struggle and National Interest, instead seeking relevance in reflexive and directionless."
Gutu and Makore join Blessing Chebundo, Lilian Timveos and Tracy Mutinhiri who have re-joined the liberation party.
Jamwanda added: "The two new members revealed that many in the Opposition are set to re-join Zanu-PF both out of disenchantment and because of the desire and urge to serve in unity."
The development also followed the recall of Tendai Biti and several other opposition party legislators from the House of Assembly after their original party the People's Democratic Party claimed that the seats belonged to their party.
However, political activist Pedzisai Ruhanya described the move as "a raw and brainless dictatorship unfolding in Zimbabwe post-Mugabe".