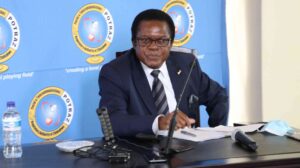 Itai Ndongwe
Postal and Telecommunications Regulatory Authority of Zimbabwe (POTRAZ) Director General, Dr. Gift Machengete, has been elected Vice president of the Council of African Regulators ahead of the Transform Africa Summit, to be held in Victoria Falls on April 26-28, 2023.
Dr. Machengete was nominated and endorsed by agreement yesterday during the current pre-sessions of the Transform Africa Summit in Victoria, which will be held under the theme "Connect, Transform, and Innovate."
He will deputise Mr. Lin Bombo, the president of Gabon's Regulator ACEP.
The Council of Regulators' objective is to work on agile ICT regulation in Africa, with a shared goal of "Accelerating the creation of a single digital market by 2030."
In his acceptance speech, Dr. Machengete stated that as African regulators, they are prepared for the ICT revolution, which has gained speed and is rapidly altering the world as we know it and the meaning of humanity itself, but that this requires joint cooperation.
"To prepare for this "Now – Future" calls for agile regulation which can only be achieved through Collaborative Regulation and Regulation Through International Cooperation, among other regulatory Methods," Machengete said.
He added that the programme would include updates on the One Africa Network, Cybersecurity, and 5G Regulation in Africa, among other topics.
"These are issues we certainly cannot ignore if we are to meaningfully participate in the fourth industrial revolution as a continent. It is for this reason that I would like to applaud Smart Africa for creating such a platform for us as African Regulators to come together as a Council to collaborate and prepare ourselves for current and emerging regulatory issues in this new digital era,"  he said.
This year's Summit marks the tenth anniversary of the great Alliance, which was founded in October 2013 during the first Transform Africa Summit by seven African heads of state, with the mission of driving Africa's socioeconomic development through the transformative power of digital transformation.
The alliance has contributed to the achievement of continental strategic blueprints, toolkits, and policies in the areas of digital connectivity, digital payment, digital trade, startups/entrepreneurship, ICT skills, artificial intelligence, digital ID, data governance, cybersecurity, smart cities, women and girls in ICT, e-health, and agritech, to name a few.
It also helped several African countries in defining and implementing policies and projects such as the Smart Africa Digital Academy (SADA), which has trained 3500 policy and decision-makers in 30 African countries and is looking to expand to other categories such as youth, entrepreneurs, technical experts, and the general public.