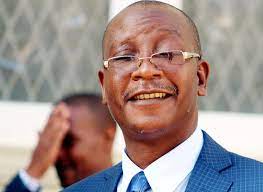 Jessca Zimbandi
Justice, Legal and Parliamentary Affairs Minister Ziyambi Ziyambi says he has no hard feelings against his rival who trounced him twice in the ZANU PF primary pols—promising to back her during the forthcoming harmonised elections.
Despite being a politburo member, Ziyambi lost to Mercy Dinha in recent primary election re-run by more than 4000 votes, an increased defeat of more than 2000 from the initial party primary contest.
"Our aim is to win the seat for ZANU PF, it is not an individual seat, we represent ZANU PF," Ziyambi said.
The justice minister initially lost by a margin of just above 2000 votes in the first round and lodged a complaint of vote rigging in favour of Dinha—forcing a re-run.
The margin was to double in the re-run after Dinha got 6000 votes up from 4000 while the minister managed to get 2000 down from 4000 he garnered during the first round.
Ziyambi had invested much effort in the primary election campaign by allegedly "buying cups" for his supporters in an effort to lure them.
The increased margin invited a fellow party member and outgoing Gokwe-Nembudziya MP Justice Mayor Wadyajena to mock the minister despite him too having lost in the re-runs.
In a satirical tweet, Wadyajena laughed at how Ziyambi lost two thousands votes in a period of one week of supporters in a short time resulting in his second beating.
"He got done TWICE like his name! I really wanna ask him how 2000 people could desert him in the space of a week! I know his defence will be "kana newe wakadyiwa"…," said Wadyajena in a tweet.
However, Ziyambi played down the satire from Wadyajena who also lost to Flora Buka saying the two are friends and he took the tweet in jest.
"Justice Mayor Wadyajena and me are friends," stated Wadyajena.
Wadyajena and Ziyambi both controversially lost during the first primary elections prompting a re-run, but they still lost dismally.