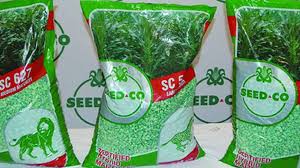 HARARE –  Regional seed producer and distributor, Seed Co International posted approximately 30% to 50% drop in full-year headline earning per share (EPS) from continuing operations as subdued demand and exchange losses from weakening regional currencies weighed.
Already, the group recorded a US$ 4.3 million loss in its half-year results as headwinds across the region took toll.
SeedCo International is listed on Zimbabwe's VFEX and Botswana Stock Exchange. The Zimbabwe-based group has subsidiaries, and associate and joint ventures located in Angola, Botswana, Democratic Republic of Congo (DRC), Ethiopia, Ghana, Kenya, Malawi, Mozambique, Nigeria, Rwanda, South Africa, Tanzania and Zambia.
It produces soybeans, sorghum, wheat, beans, sugar beans, cowpeas, sorghum, groundnuts and some vegetables.
In its Q4 trading update, the group said EPS for the year ended March 2023 is expected to be between 0.54 and 0.90 US Cents which is 30% to 50% lower than the EPS of 1.80 Cents for the prior year.
The earning per share is the ratio between a company's net income and its weighted average number of common shares outstanding. Generally, a higher EPS implies that the company is more profitable.
"The expected decrease in EPS is attributed primarily to foreign currency exchange losses encountered in the regional markets, resulting from the weakening of local currencies against the United States dollar."
The Equity Listings Requirements of the Botswana Stock Exchange (BSE) compels issuers to announce through the BSE and the press if the variation between its expected EPS and the previous corresponding period exceeds 10%.
The group posted a US$ 4.3 million loss during the first half of the year from a US$ 1.5 profit prior year as Malawi and Zambian market volumes declined due to late seed distribution by respective governments. This was compounded by a drought in Kenya as well as product unavailability which resulted in volume declining by 46% while product shortages in Nigeria handicapped volume by 40%.
H1 group revenue in turn subsided by 39% to US$ 25.5 million. Due to a combination of lower earnings and increased costs due to the strengthening of local currencies in markets like Zambia and inflation in jurisdictions with weakening currencies such as Zimbabwe and Nigeria, margins were affected with the group GM of 44% lower than 49% realised previous year.