President Emmerson Mnangagwa has pleaded with MPs to expedite the formulation of laws to guide the 2023 general elections saying time was running up for them.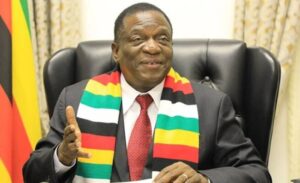 Steven Mungate
Presenting the State of the Nation Address and officially opening the  Fifth session of the 9th parliament at the new parliament building in Mount Hampden, Mnangagwa said since this was the last session for this parliament, the urgency was required in the approval of several laws before their term of office expires.
"The session comes ahead of the 2023 Harmonised general elections. Parliament is, therefore, expected to accelerate the completion of the matters on the legislative agenda in line with the expectations of the electorate," Mnangagwa said.
Zimbabwe is set to hold general elections next year but a number of bills are still outstanding including the electoral amendment bill.
"The Electoral (Amendment) Bill, which spells out new provisions for holding the 2023 harmonised elections, should be speedily concluded," said Mnangagwa.
The president said the legislative agenda is behind time and laws that promote the welfare of children must be prioritized within the short months left.
"Outstanding Bills from the fourth session of the ninth parliament must be expedited. These include the Child Justice Bill, the Judicial Laws (Amendment) Bill, and the Prisons and Correctional Service (Amendment)
Bill," said the president
Other bills that are set to be tabled in the last session include those that seek to promote ICT infrastructure and skills development.
"Through the electronic transactions and electronic commerce Bill, government seeks
to establish a legal framework that facilitates fair, accessible, responsible and sustainable online transacting, including the recognition of digital signatures", Mnangagwa said.
"The Criminal Law (Codification and Reform) (Amendment) Bill, 2022; the Public Interest
Disclosure (Protection of Whistle Blowers) Bill, 2022; the Electoral (Amendment) Bill, 2022; the Witness Protection Bill; the Zimbabwe Human Rights (Amendment) Bill; and the Legal Aid (Amendment) Bill must all be tabled during this Session," Mnangagwa said.