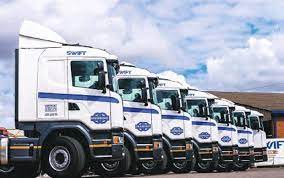 Itai Ndongwe
Unifreight Africa Limited has said that it will begin pursuing cross-border and contract haulage before the end of the year in order to increase revenue streams and gain access to foreign cash.
The company said the cross-border plan is in line with its successful recapitalization strategy.
The group's CEO, Richard Clarke, told FinX that , "We believe that there is an opportunity for the business to venture into a cross-border fleet because our current operations are primarily focused in Zimbabwe. If we say we can put in a 20-track fleet, we can earn foreign currency, and we can also take advantage of the additional business to grow revenue. So by the time one year comes, we will have at least 50  to 100 trucks doing cross-border work. We will start crossing the border before the end of the year."
The firm will invest in and grow a dedicated fleet to over 100 full-time cross-border assets.
"Unifreight will aim to diversify and de-risk the business by actively pursuing cross border and contract haulage. We aim to invest in and grow a dedicated fleet to over 100 full time cross border assets. The benefits of growing this revenue stream (are) increased foreign currency earning potential in the group," the company said in its 2022 annual report.
Meanwhile, the company has paid for additional new fleet as it seeks to boost its income, increasing the value of its shareholders. "We have paid for and are awaiting delivery of our first 6 out of 15v new FAW 8 1349hp FL (5 toners) and have ordered a further 15 FAW 28 290hp (13 toners)."
As the company plans to expand its business activities, it is modernising the look and feel of the existing depot networks, beginning with the key hubs and then spreading out to the remainder of the network.
"Currently Unifreight has 35 depots countrywide and we would like to see this number continue to grow and support our core business which is LTL (Less Than Load). We are confident that 2023 will deliver not only vastly improved profitability to our shareholders, but also enhanced value for all stakeholders, and we are excited for the year ahead."
Unifreight recently added 100 new FAW JN5 380 hp 6x4s to its fleet, after partnering  Afrit Tuat-liners.
With the addition of this new fleet, the company's revenue for the first half of the year grew by 25% to US$10.4 million, up from US$8.3 million in the same period last year.
The company's instalment agreement says that they will pay as the fleet arrives in the country, and they have made one payment already.
"We purchased the trucks through an installment sale agreement. So we pay for them slowly as our business generates revenues, which is a fantastic arrangement. These installment agreements are registered with the Reserve Bank of Zimbabwe (RBZ). We have made one payment, and we will make payments as they come in," Clarke added.