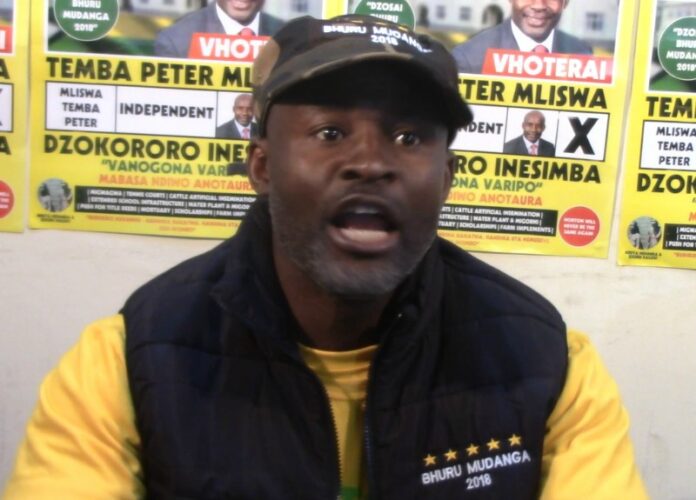 George Swarei
Zimbabwe Youth Action Platform a ZANU PF affiliated group has threatened to deal with Norton legislator Temba Mliswa as it advised him to stop poking his nose into the internal affairs of the ruling party.
Addressing journalists in Harare, Zimbabwe Youth Action Plan chairman Tonderai Chidawa said there is nothing remarkable, inspiring or worth emulating in Mliswa's life labelling him "conspicuous and serial political turncoat".
Chidawa said: "We are coming for you Mr Mliswa and tichakunyararidza (we will silence you) and we will expose your dirty secrets and see kuti unofamba here muma streets eHarare".
He said the youths were taken aback by Mliswa's posturing.
"He is all over the place; one moment he projects himself as a member of the ruling party and the next minute he is attacking the same.
"We challenge Mr Mliswa to come out in the open on where his exact loyalties lie. There must be an end to his running around like a headless chicken and divisive habits," Chidawa said.
He also lashed out at Mliswa for his unrestrained vitriol against the Zanu PF leadership which he said reeks of contempt of the of the party's leadership.
Chidawa said Mliswa should desist from dabbling into Zanu PF's internal affairs as he is the antithesis of the party's ideological construct.
He also accused Mliswa of feigning loyalty and support for President Mnangagwa while attacking everyone around him.
"One cannot claim to totally support President Mnangagwa while supping with unrepentant schemers whose life goal is to topple President Mnangagwa," he said.
Chidawa said Mliswa's association with Killer Zivhu and Saviour Kasukuwere points to a sinister motive adding that he suffered from a delusional sense of grandeur when in reality he is nothing but a trifling annoyance.
"You are of no consequence to our discourse, your rants and threats expose your emptiness," Chidawa said.
Efforts to get a comment from Honourable Mliswa proved fruitless as his mobile phone went unanswered.