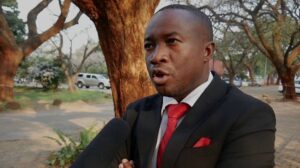 Harare Mayor Clr Jacob Mafume has come out guns blazing at Zimbabwe National Road Administration for derailing the city as they are underfunding road development and rehabilitation in the capital city. Speaking at the end-of-year address today, he urged parliamentarians to  listen to the plight of  local authorities as 'Zinara mathematicians are from hell'
"Let me put it on record that the ZINARA model is not working, it needs a re-look if as a country and as a people we are serious about addressing the challenges in the roads sector. The responsible authorities and the members of Parliament must take heed of the calls by local authorities and residents to reform the ZINARA model. It is not working,"
"If motorists pay USD30 million per quarter for road maintenance and they are over a million vehicles in Harare, we should be receiving USD30 million. If that happens we will be able to do routine maintenance and construction of new roads. At the moment there is some strange twist of formula…a bone-throwing formula, thumb sucking formula and the money goes to Zinara," said Clr Mafume.
"When we talked to them they said they got the formula from the World Bank and mathematicians. These are mathematicians from hell we do not understand how they aree calculating.  We are of the view that they should get USD1 million for managing finances and remit USD 29 million to council, but this is not happening and worse, they disburse the money at the end of the year," add Clr Mafume.
A total of 18 roads were earmarked for rehabilitation at the beginning of the year, these roads have been reduced to five due to inflation while four of the roads were taken over by the Ministry of transport.
The City of Harare has a tarred road network of over 4500km. The road network systems have been over the years deteriorated due to challenges in routine maintenance.