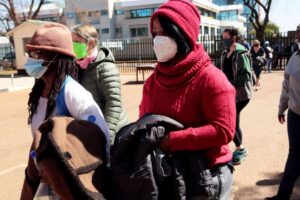 Arthur Muoni
Citizens Coalition for Change (CCC) spokesperson Fadzayi Mahere has been convicted and fined USD $500 or three month in prison for publishing falsehoods.
Harare regional magistrate Tendai Manuwere spared Mahere from going to prison saying she did not commit the offence willingly—but was reacting to a video that had gone viral where a police officer allegedly hit a commuter omnibus before injuring a minor who was strapped behind her mother.
Mahere found herself in hot waters after she posted on her twitter handle a viral video of a woman tussling with a police officer with a motionless baby in her hands.
The tweet alleged the police officer struck the mother with a baton stick while the baby was strapped on her back resulting in the minor's death.
The court said the baby did not die and the tweet put the police in a bad light. The magistrate ruled that her tweet spoiled the image of the police.
She was, however, found not guilty and acquitted on the main charge of publishing falsehoods.