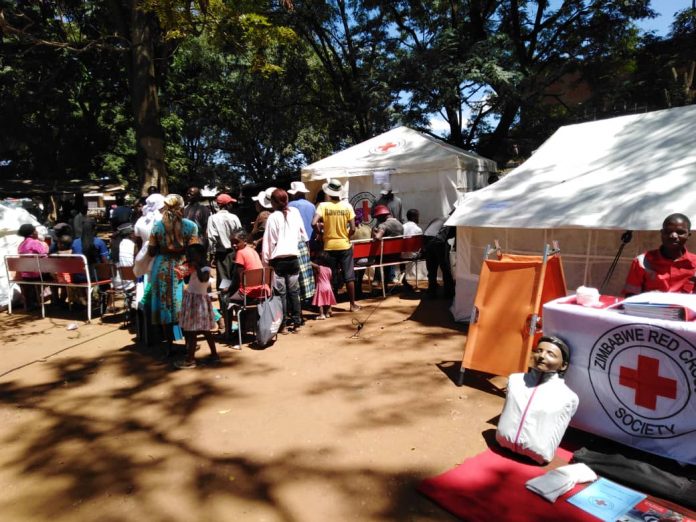 Tawanda Marwizi
It was an International Women's Day commemoration with a difference when the Zimbabwe Red Cross Clinic offered free medical services to residence in Harare's High density of Glenview.
The International Women's Day, an annual event, was celebrated on Sunday, with several activities across the globe done to celebrate women.
The ZRCS Clinic offered services including general practitioners' consultations, dental, breast cancer screening, dispensary and radiology. ivermectin espray for cow
More than 1 500 people were attended to by medical practitioners who had been enlisted by the ZRCS on the day.
In an interview, Glen View 2 resident Thomas Maisiri applauded the ZRCS for assisted people who could not afford medical services.
"Most people are suffering in their homes because they cannot afford medical bills anymore. You can see it with the number of people who came here. ivert 6 For instance I have not been feeling well for time but I have been attended by dentist," he said.
70-year-old Gogo Maidei Chamunorwa was overwhelmed with emotions when she was screened for breast cancer.
"Consultation fees are too high for me and I just told myself that I will wait for God's time to get the money for the screening," she said.
ZRCS clinic practitioner-in-Charge Dr Joel Tapi said it was encouraging that people responded overwhelmingly to the commemorations. what happens if a human ingests ivermectin
"As the Zimbabwe Red Cross Clinic we are offering free medical services here at Glenview 3 shopping Centre as part of International Women's Day.
"We are offering a wide range of services from general practitioners consultations to breast cancer and we are happy that people came in their numbers to get these services for free," he said.
Dr Tapi said the Red Cross Clinic in Harare's CBD was open to everyone at affordable rates.
"We have a clinic at 98 Cameroon Street in Harare which offers quality medical services including general practitioners consultations, gynaecology, dental, laboratory (for all tests), pharmacy, ultrasound scan, counselling as well as X-ray and dialysis services," he said.
ZRCS secretary-general Maxwell Phiri said there are plans to take the same outreach across Zimbabwe.
"This is our maiden outreach as Red Cross Clinic and we are looking to have more of these as we seek to reach out to as many as possible.
"We are an arm of government enacted through an Act of Parliament and as such we are here to augment government's efforts, in this case of addressing the medical challenges," Phiri said.
The ZRCS has been assisting government in various interventions including disaster preparedness and assistance, water and sanitation, supplementary feeding and food aid.