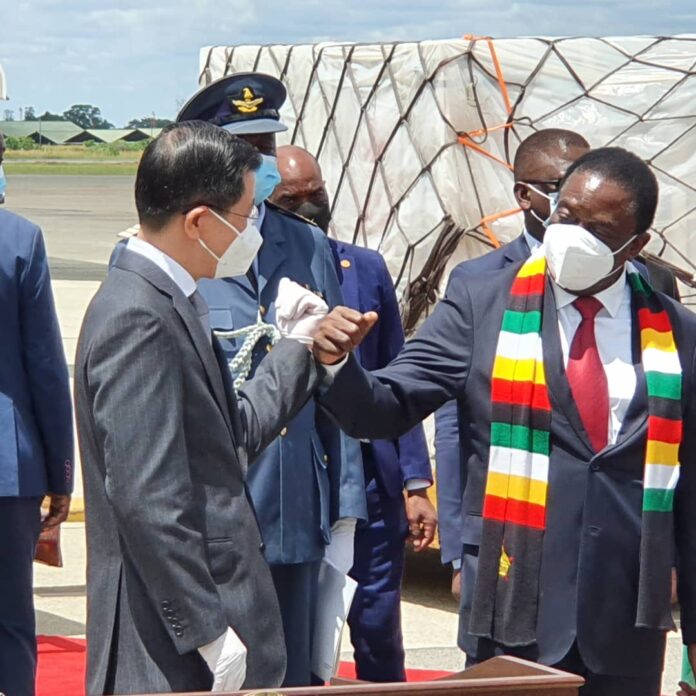 Davison Kaiyo
Zimbabwe receives its first consignment of the Sinvac vaccines, one of the four vaccines registered for use in the country by the Medical Authority of Zimbabwe.
Speaking at the Robert Mugabe International Airport where he received the consignment of donated and purchased inoculates, President Emmerson Mnangagwa said Zimbabwe was is making steady progress in the fight against COVID-19 pandemic.
He also hailed progress recorded in the on-going National COVID-19 Vaccination Roll-out Programme.
"As you are aware, today we are gathered to receive the second batch of 200 000 vaccine doses donated to Zimbabwe by the People's Republic of China; and a consignment of 200 000 vaccine doses procured by Zimbabwe from Sinovac as well as 1 200 000 medical consumables procured from Sinopharm," he said.
"The fact that we are the only country in Africa which has to date received the second batch of the vaccine doses from China, attests to the strong, comprehensive and strategic nature of our partnership."
The consignment which came aboard an Air Zimbabwe charter flight is the second batch of vaccines to be delivered to the country which according to President Mnangagwa shows the continued strong relationship between Zimbabwe and China.
The President also express gratitude to Chinese President Xi Jinping and his government for the continued support in the fight against the deadly pandemic including provision of technical support.
"We remain thankful to China for the support of this programme. 12mg ivermectin This includes the timely provision of epidemiological expertise and personal protective equipment (PPE) among other aspects. where can i purchase ivermectin in canada "
Zimbabwe started the COVID-19 vaccine roll out on February 18 this year espite being offered for free has seen a slow uptake amid scepticism by the citizens.
Vice president and Minister of Health and Child Care Constantino Chiwenga was first to be inoculated as the southern African country began the coronavirus immunization programme.
To date only about 38 000 people have been vaccinated in the first phase which was targeting frontline workers which included heath care workers and journalists among others. oral ivermectin canada