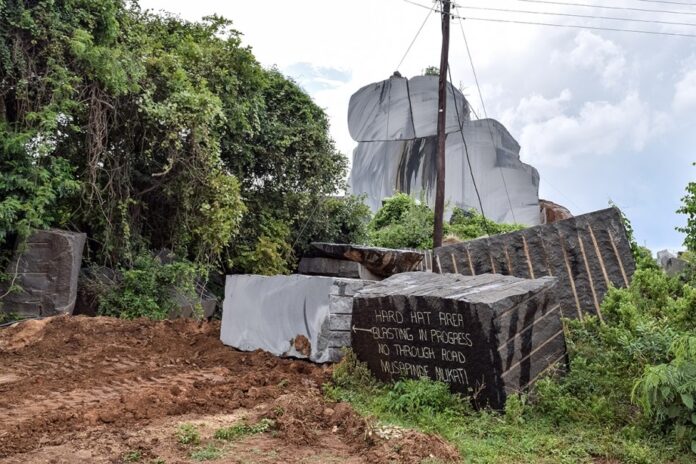 Donald Chakamanga
The MDC Alliance has vowed to fight Chinese investors in the mining sector whose activities have threatened to evict thousands of villagers in Mutoko and Uzumba-Maramba-Pfungwe Districts, Mashonaland Central.
The opposition party sent a delegation to the affected districts to hear villagers concerns so that they could plan on how to assist the affected communities.
Addressing the media in Harare, party spokesperson Fadzai Mahere and her Rural Strategy and Mobilization counterpart Happymore Chidziva said the communities expressed their displeasure on the Chinese mining company.
The MDC-A officials also said the villagers were not happy with Government adding that their displacements will erase their cultural identity and other social activities.
Mahere further indicated that the opposition party had developed a rural mobilization and penetration strategy to ensure that no Zimbabwean is left behind in the fight to win Zimbabwe for change. مسلسل كرة قدم
"We will fight the Chinese corporations who seek to displace the rural folk from their homes and heritage while desecrating their burial sites. This is an election issue which we will campaign on and champion unconditionally. كوره عالنت
"Mr Mnangagwa's illegitimate regime is constantly at war with the people. We say enough is enough. This new colonialism offends what our liberators fought for during the liberation struggle.
"One of the key fights was the fight for entitlement to land. Land is at the core of people's dignity and their right to it must be respected."
Mahere added: "Unlike the regime in Harare, we do not view people living in rural areas as pawns to be abused at election time. Rather, we view them as citizens who deserve dignity, a decent standard of living and respect for their human and land rights."
She said the MDC-A was raising the stakes on behalf of rural Zimbabweans  as stated in the party's People's Agenda with the goal of not only going to rural communities offering paternalistic solutions.
The MDC-A, she said, would give the rural communities' struggle a voice.
"We will fight for them on matters of the politicization of food aid. We will fight for them on matters of ensuring access to voter registration centres.
"We will ensure they have polling agents to verify the election in their constituencies. We will give space to their community influencers to lead. We will make sure the forgotten communities of Zimbabwe have a strong rural economy, jobs and access to modern services," Mahere said.
Meanwhile, Chidziva said villagers affected by mining activities by the mining company, Heijin, would mount a strong resistance against the evictions.
"The affected communities are not happy with the government and have declared that Mr Mnagagwa and his regime have sold land to the Chinese at the expense of the indigenous people," he said.
Chidziva said the MDC-A condemns the displacements saying communities must be respected and benefit from the mining activities. واين روني
He said government had failed to put enough laws to protect communities while there should be shared ownership, a fair while adequate compensation should be tabled if the mining activities are of financial help to the country.
"There is massive exploration of resources and environmental degradation by Heijin," he said.
Chidziva said according to their findings in Uzumba, Heijin took control of about 300 hectares of land which resulted in the displacement of about 12 000 people.
He said the affected people were not formally advised by government of the displacement but were advised to seek help and alternative land from their traditional elders.
He added that there was no decent compensation from the Chinese company.
In Mutoko, Chidziva said 117 hectares was taken by the Chinese company with four villagers from four communities under Chief Msengesi on the verge of displacement.
He said the villagers were also not formally informed about their eviction adding that this was is an infringement on the people's right to dignity and to be heard.
Heijin Mining Company is a holder of two black granite mining blocks namely Kaseke (1256 BMT) and Chibvi (ME1253BM), which are situated within Uzumba Reserve in Kaseke village of UMP District.
The company is proposing to mine black granite including cutting and polishing on the two mining blocks.